Toy haulers have a garage that opens up and welcomes any of your favorite outdoor toys–including four wheelers, motorcycles, and dirt bikes. Depending on which machines you prefer, how much time you'll spend camping in your toy hauler, and how many machines you want to fit back there, you'll be looking for specific features that will allow you to have the best possible camping experience. Find out more about these toy haulers for sale below!
2019 Cruiser Stryker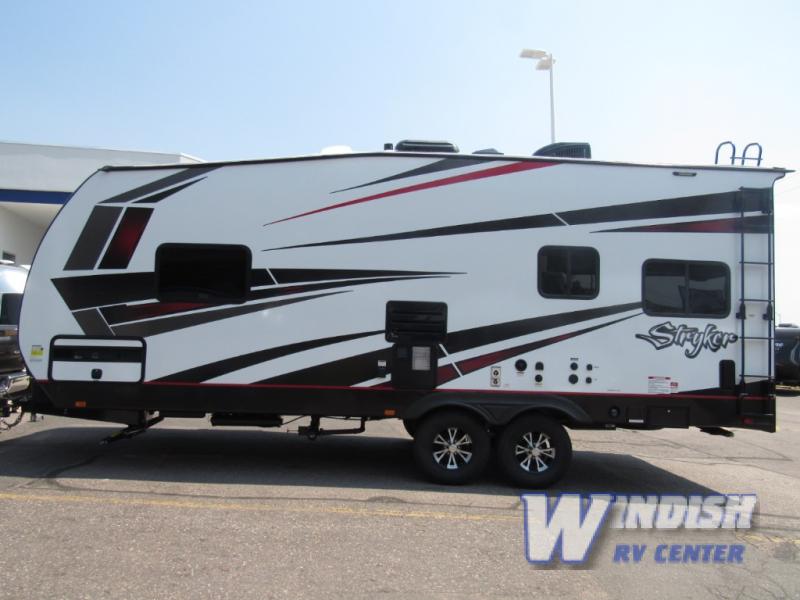 First, we have the Cruiser Stryker. Stryker is known to be extremely family-oriented. This means that it can withstand a whole lot of people for a whole lot of time. If you're looking for durability, you can find it in the Stryker.
The foundation is powder coated steel frame with lamination that lasts because it uses high-density block foam insulation. You are going to be able to stay for an extended season because of the Flex foil insulation in the floor and the separate heat duct that allows you to camp in cooler weather. All of these heavy duty components that Stryker toy haulers have provides lower maintenance, longevity, and more reliability.
Couples will enjoy a little more privacy with the private entry from the bath to the bedroom. It may seem like a small feature now, but upon living in such a small space, you'll enjoy the little moments of privacy from the rest of your crew. Along with the private entrance, the Stryker also provides a king sized bed in the master bedroom.
In the living space, you'll have a shared kitchen and living area that offers a TV, which is especially convenient for rainy days and evening family fun. You'll be able to pop some popcorn in the microwave and settle in the residential-style free standing furniture (which comes with a nice top-stitching).
Sidenote: the shaw carpet has R2X stain-resistance treatment, which is super nice.
Also, a feature that is extremely helpful for all? The charging station with 12v and a USB port. Always a great amenity for everyone trying to find a convenient place to charge their phone, laptop or Ipad.
2019 Grand Design Momentum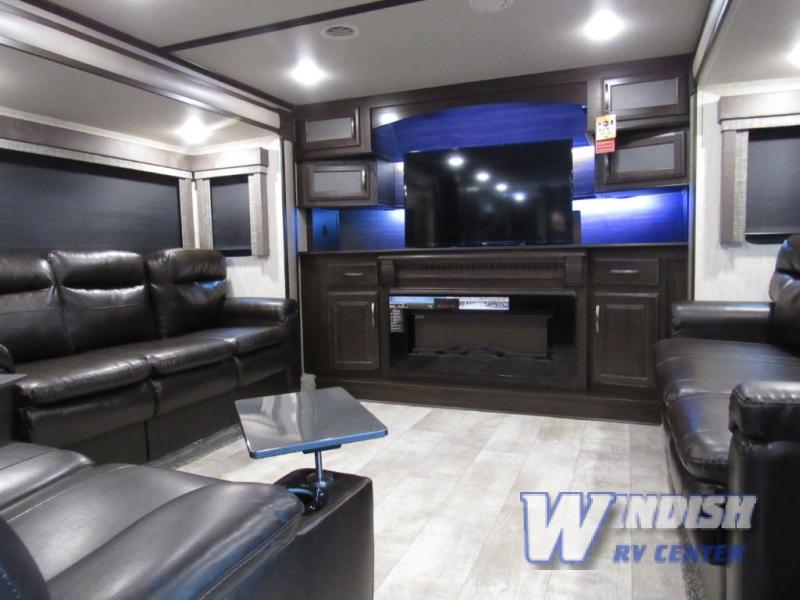 Another great choice–the Grand Design Momentum. Worried about storage? You'll never worry again with the Momentum. It has a large spectrum of storage compartments along the interior and between the exterior construction. In addition to all of those great parts, it also has FIVE slide outs. Yes, five. If you were thinking you'd be wanting for space, think again.
A main attraction of a recreational vehicle is having a fireplace. Many RVers have the desire to go outside, enjoy the trails (especially those of you with outdoor toys), and then come back to a cozy, luxurious space. The Momentum has just that, with a fireplace settled right in front of the "no-pedestal" TV and the sofa. This specific sofa is genuinely amazing with heated seats, massagers, and an LED lighting package.
The interior also includes a convection microwave, a central vacuum system with tools and a dust pan, and a satellite/solar roof access channel to mention a few highlights. Any Grand Design Momentum allows you to keep your active lifestyle no matter where you decide to stay!
2019 Keystone RV Fuzion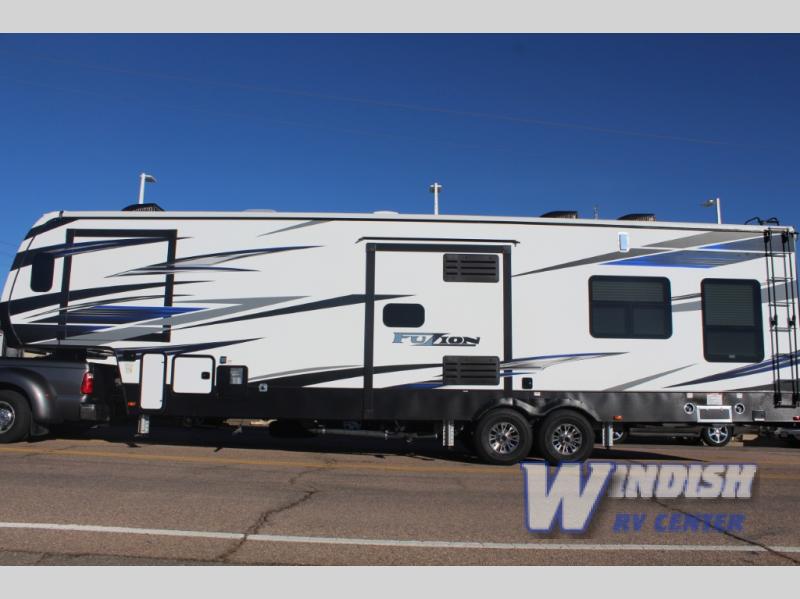 Last but definitely not least in the toy hauler stock, we have the Keystone RV Fuzion. The 2019 model has a sweet twist with a 8′ zero gravity ramp door that makes loading and unloading easy and quick. If nothing else, it's way easier on the back!
Does it feel like there can't ever be too much space in an RV? Yeah, we feel that way, too. Which is why we highly recommend the Fuzion, as it comes with three beautiful slides that give you all of that extra run-around room (not that you'll be running in your RV, but hey, you may have small kids that need that kind of fun on a rainy day). When you can't get to the trails with your toys, a lot of space is good.
If you're one of those couples that prefer a smaller bed and really don't need the extra space a king has, the Fuzion provides the perfect midsize–the queen. It's comfortable and allows for a little extra space in the master suite.
Not that the Fuzion doesn't already come with the great sleeping capacity of nine, the loft helps, too. If you desperately need it, it's there to be used. Storage is a great option for the loft, as well.
And of course, the coveted kitchen island that every RVer is dying to have. Who doesn't love that extra counter space? When RVing, you can never have too much room in your kitchen to spread out the yummy food.
Time to Choose!
We know it might take a while to decide between any toy hauler for sale, so please contact us today with any questions. We'd love to get to know you and help you find the perfect recreational vehicle, and of course, a good price!