Check Out Our Selection of Toy Haulers for Sale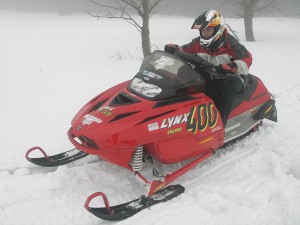 We're in the dead of winter, and while most are yearning for warmer weather to hit the beach or jogging trails, many of us who call Colorado home are excited to take advantage of the snow and gorgeous scenery. If you're looking to hit the slopes, check out our tips on how you can turn your toy hauler into a snowmobiling retreat.
Storage | Aside from using your garage to store your snowmobile, you can use any overhead or wall storage to keep essential items at hand. You always want to have an emergency backpack with you when you're snowmobiling. Store backup items like extra hand warmers, tissues, or vitamins so they can easily be accessed if you need to restock your RV.
Food | One of the biggest perks of having a toy hauler is constant access to a kitchen. Set up a drink and snack bar in the kitchen where you can warm up before and after hitting the slope. Include hot cocoa, coffee, and tea, that way you and anyone else who is vacationing with you can have their choice of drink. Heavy snacks that stick to your ribs like nuts and beef jerky are easy to lay out and can be quickly popped in your backpack to take on the trails.
Extra Parts | Thanks to all the space provided in your garage, you can bring along any extra parts you might need for your snowmobile in case something happens. We never plan to tear up our machine, but bringing along extra parts for common issues helps ensure you don't have to cut your trip short.
Tools | Use your garage to store any tools you might need to do quick repairs. You never know when a flat head screwdriver or mini drill might come in handy, especially when you're using a machine like a snowmobile.
Nighttime Retreat | OK, so what if you hit the trails and the weather takes a turn for the worse? Take your safety seriously and head back to your toy hauler. Put on your favorite movie and kick back and relax until the weather passes by. That's the beauty of owning a toy hauler. You can mold it to meet your unique needs.
Popular toy haulers include: Voltage, Momentum, Impact
Photo Credit: By Dirk Unger (Unger.dirk at de.wikipedia) [Public domain], via Wikimedia Commons