So, what is a Murphy bed? If you don't know what a Murphy bed is, it's a bed that is designed to fold back into a couch. The design of the Murphy bed has changed over the years, but the convenience of it in an RV has always stayed the same! Because it's great to have convenience on your side when you live or vacation in an RV, we've made a list of some of our top 3 RVs with Murphy beds.
1. Forest River RV Rockwood Mini Lite 
First, let's take a look at the Forest River RV Rockwood Mini Lite. In addition to a Murphy Bed, this modern trailer has all the essentials plus a few surprises. Of course, "mini lite" implies that this trailer can be towed by a smaller vehicle and it's great for packing up and leaving on the go. Without much set up, you can decide on a moment's notice that it's time to have a camping adventure.
See just how fun and convenient camping can be in this single slide out travel trailer. You will also love the double bunks and the exterior pull-out grill to grill up your best burger. If the weather doesn't allow you to use the grill then no worries because you can still easily whip up your best meal at the indoor kitchen, and the countertop extension is the perfect place to serve your meal.
Having a rear bath is exactly the kind of privacy you'll enjoy with this trailer. There are so many more fun features in this trailer. Whatever you choose to do with your  friends or family it is sure to be a good time!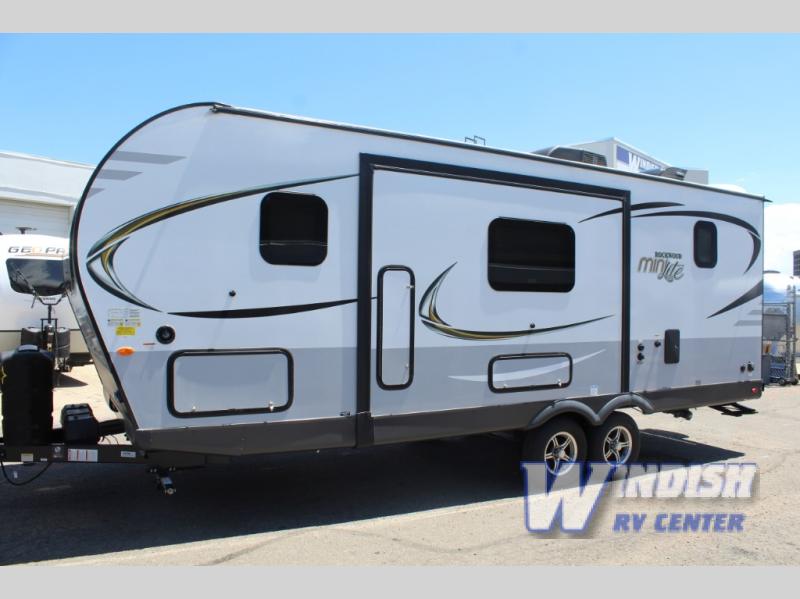 2. Grand Design Imagine
The Grand Design Imagine travel trailer will give you the experience of the outdoors with a cozy interior that allows you to have the space you desire. Experience new adventures with inside features to make you feel just like you are at home such as ample counter space in the full kitchen, a cozy theater dinette with removable table to watch the high definition LED TV on a swing arm, and your own bedding and bathroom accommodations.
Inside the rear bathroom, you will find features such as a residential walk-in shower, linen storage, a vanity, and a power vent fan to eliminate the steam from your nice hot shower! When you're in a confined space, it's great to have these features in your bathroom to keep everything organized and minimized, as well.
Another great amenity of the Grand Design Imagine is the deep-seated stainless steel sink, which makes it a lot easier to clean up meals, and it gives you some time off when you need to leave the dishes in the sink.
The Imagine is perfect for those searching for the ultimate lightweight construction and convenient features. The Murphy bed tops it all off!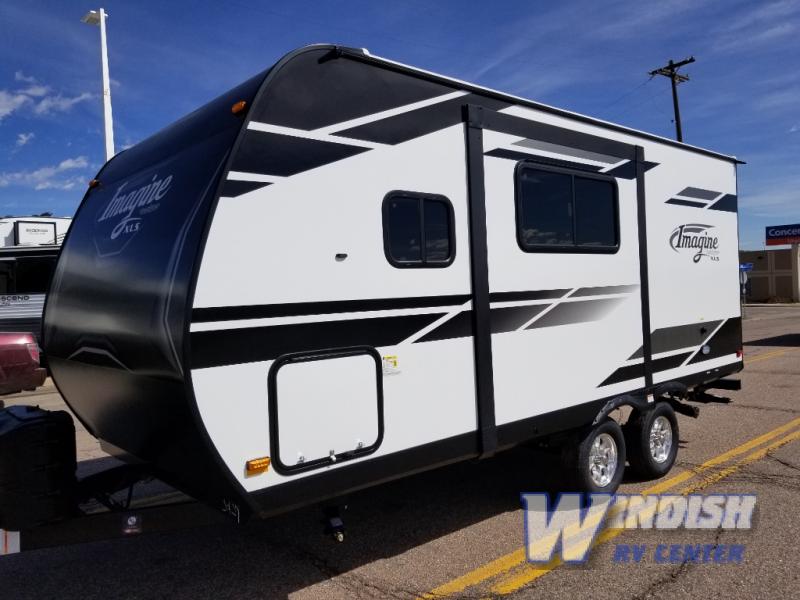 3. Jayco Jay Feather
You've probably heard of Jayco before, as it's one of the top leading manufacturers in the recreational vehicle department. The Jayco Jay Feather just leans into the popularity, as Jayco designed it with intentionality for their customers.
This small yet compact trailer has a bunk beds for the kids, a spacious interior, and a private bedroom for you and your significant other. After your adventure outdoors is over for the day, come back to the comfort of a living space with a sofa and the dinette for meals or playing games.
The full bathroom is a great feature to have as well, especially if you have kids that might overrun the space in the morning. You might even decide to add an optional outside kitchen to enjoy the outdoors under the awning. Take a look at all of the other features, as well. You will be happy you did!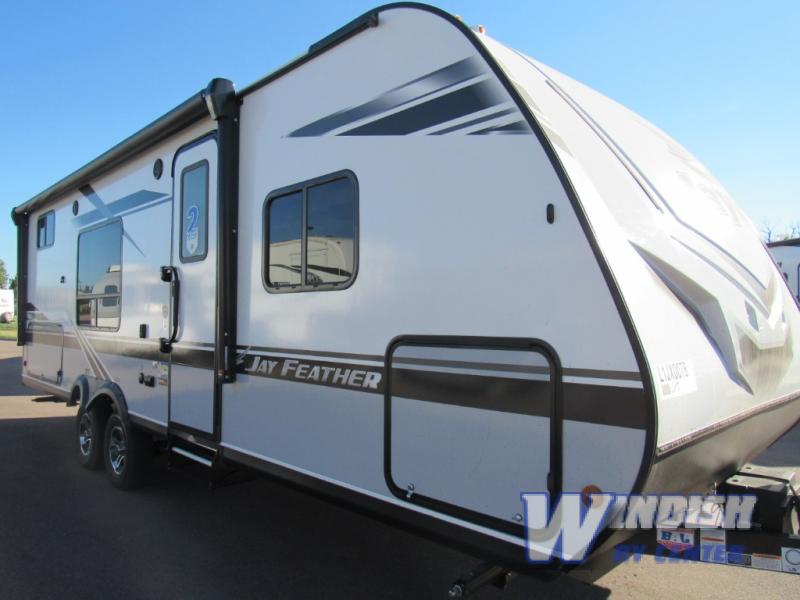 Now that you have seen our top 3 travel trailers with Murphy beds, be sure to take a look at all of the extra features we didn't mention in this review. There are so many other amazing amenities that come with these convenient trailers! If you have any questions, please contact us today. We hope that you have a great camping experience with anyone of these beautiful travel trailers with Murphy beds!