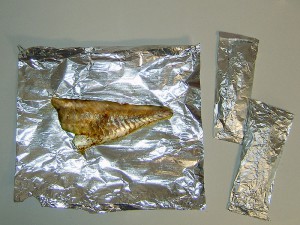 Tin foil dinners. Ahh, those relics of the past; delicious meals whipped up over an open fire and served in simple tin foil. If you've grown accustomed to using your RV's kitchen, you might want to consider bringing these little treats back into your routine. They're surprisingly easy to whip up, require little clean up, and are delightfully yummy. Both parents and children alike love these meals, which can easily be made once you're parked at the campground.
The art of tin foil cooking, however, requires a little planning. First and foremost you want to make sure you've got heavy duty foil. The flimsy stuff doesn't seal well and will break under the weight of the food wrapped in it. You also want to make sure you spray the side o foil you plan to place the food on with cooking spray to keep any food from sticking. There are also two types of of foil packets. By folding your foil flat you create the perfect cooking environment for browning meat, however, if you wish to steam vegetables you are better off making a tent. Regardless of the foil packet type you choose to use you want to ensure you DO NOT place the packet direct on the flame. Instead, place it on a bed of hot coals that is around 2 inches thick. Be sure to place your meat in the packet first and top it with lots of watery veggies like onions, as these let off plenty of moisture and prevent the meat from drying out.
Making A Flat Pack
Tear off a sheet of foil that is roughly double the area of the food you plan to cook. Place food on the center of a sheet of heavy duty foil. Make sure any seasoning or mixing has been added before adding to the foil. Fold the foil over, seal on either side, then roll up excess foil on either side so the packet is air tight.
Making a Tent Pack
To make a tent pack you simply tear off a sheet of aluminum foil, add your food, and fold as you would a flat pack. The difference here is that when rolling the sides you don't do it as tightly. This loose folding allows you to pull the top of the packet up, creating a tent.
Tin Foil Recipes
Now comes the fun part: creating yummy meals! Whipping up a tin foil dinner take just a little creativity and an adventurous spirit.
Scrambled Eggs and Sausage
2 Scrambled eggs
2 Crumbled sausage patties
Cheddar cheese
Salt
Pepper
Combine sausage and eggs, sprinkle cheese on top, place in a tent pack, and cook for about 15 minutes over hot coals.
Cheeseburger Casserole
1/2 Pound ground beef
1 Can Rotel (tomatoes with green chilies)
1 Package frozen mixed vegetables
1 Can cream of mushroom soup
1 8 ounce package of sharp cheddar
Combine ingredients, place in a flat pack, and cook for 30 minutes over hot coals.
Do you have any simple tin foil recipes you enjoy while camping? Share with us on Facebook!