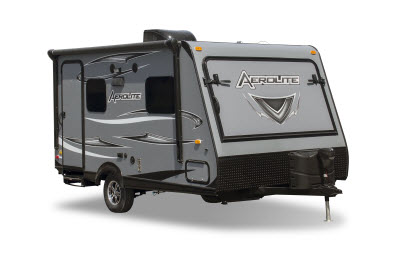 Nowadays one of the top priorities of RVers is fuel efficiency. After all, saving money on fuel means you can put more money toward your trip or take more trips throughout the year. Lightweight travel trailers have fast become popular for this exact reason. Talk to a range of RVers and each one will give a reason for why they either love or hate lightweight travel trailers. Luckily, at Windish RV we carry both traditional travel trailers and lightweight travel trailers, and have put together a list of three lightweight travel trailers that could meet your needs.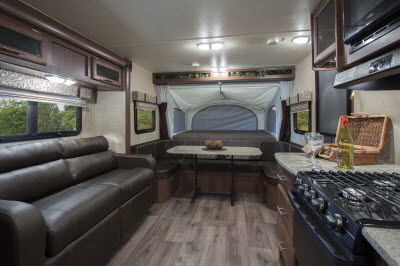 Kodiak is a leader in ultra lite technology. It offers travel trailers and expandables that feature everything you need to feel right at home. The Kodiak Ultimate includes solid surface countertops, while every model comes standard with extensive storage that allows you to bring along all of your favorite items. The interior offers Beauflor flooring, which will last for years and years to come, while the night shades lend to the residential feel of the interior.
Passport Ultra Lite travel trailers range between 24′ and 35′ in length, offer up to 2 slides that maximize your living area, and sleep up to 10 people. Just because the Passport is light in weight doesn't mean it is light on amenities. It includes large sitting areas that come with residential sofas. Double kitchen sinks make clean up and food prep a breeze, while queen sized beds promise a great night's rest.
The Aerolite can sleep up to 10 people and measures up to 36′ in length. Aerolite offers an unparalleled 6'10" ceiling height and is light enough to be towed by a minivan, crossover vehicle, SUV, or 1/2 ton truck. Each floorplan offers residential living space that includes spacious U-shaped dinettes, tons of counterspace, and king sized beds. Whatever your needs you can rest confident that this lightweight, yet incredibly spacious RV will meet them.
If you're interested in learning more about lightweight travel trailers view our selection online or contact us or help. We have served customers throughout the U.S. and Canada and can ship your RV to you.