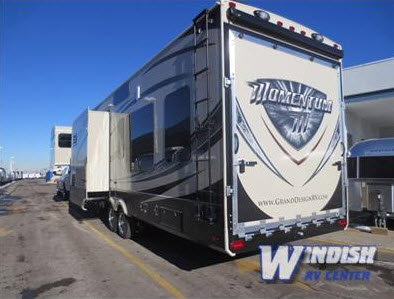 The Grand Design Momentum toy hauler fifth wheel marries the luxury of a fifth wheel with the practicality of a toy hauler. With the Momentum you get a toy hauler fifth wheel that will meet the primal needs of the active RVer, in addition to the luxury commanded by RVers who aren't willing to sacrifice on comfort despite their love of the outdoors. With the Grand Design Momentum luxury comes standard from the front to the back. You are sure to find a floorplan that you'll love.
From the inside out the amenities that come with the Grand Design Momentum are incredible. The exterior boasts frameless windows, a whole house water filtration system, and a Lamilux 4000 high gloss gel coat. Each of these features extend the life of your toy hauler and ensure you get the best quality of life in it. The interior includes a 46″ LED TV, 30″ residential microwave, 12 gallon quick-recovery DSI water heater, and an over sized 22″ oven.
The 2014 Grand Design Momentum 355TH floorplan accommodates 8 people and has 3 slides that enhance your living space. As you enter the front of this floorplan you ascend 2 steps to access the bathroom and bedroom. Your bathroom includes a linen closet next to a huge shower with a seat in it. The front bedroom comes with a queen sized bed and gives you the option to select a king sized bed. If you're used to worrying about where you'll do your laundry the Momentum 355TH eliminates the need for worry because it includes washer and dryer prep next to the master bedroom's closet. If you need space for your ATV or other toys you'll love the 12′ garage that includes a LED TV on the wall, the option for a split bench seat/lift/table, and a loft bed. Those who enjoy cooking will enjoy the spacious kitchen that includes a double sink and peninsula shaped counter that you could put two bar stools under.
If you want to sleep less people, but prefer more amenities you will love the 2014 Grand Design Momentum 385TH. This floorplan can sleep 7 people and is laid out very similarly to the 355TH, however, it includes the advantage of a half bathroom located between the garage and kitchen. Additionally, this floorplan has a more open concept kitchen that includes an island with a double sink. This floorplan is ideal for those who want a floorplan that's styled after residential interiors.
Visit our website to view our selection of the Grand Design Momentum toy hauler fifth wheel. We also welcome you to stop by to walk through available units. As the top toy hauler fifth wheel seller in Colorado we bring the experience and skills necessary to help you makes the best buying decision for your needs.