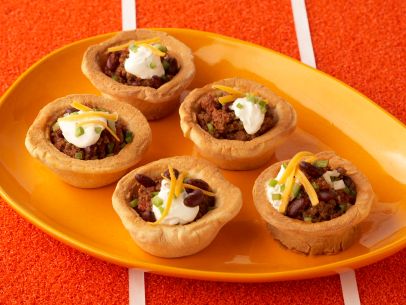 Tailgating is probably one of the most relaxed social settings you'll ever have a chance to entertain guests in. After all, how often do you have friends over where they're wearing their team's jersey, have their faces painted, and are belligerently screaming against the opposing team? Short of the Super Bowl, you'd probably answer never to that question. Deciding what to serve your guests while tailgating can be frustrating if you're trying to break away from the traditional hot dog and burger menu. If you're in need of some tailgating food inspiration check out these great ideas below.
Baked Potato Bar
This is actually one of the easiest way to mix up your tailgating. In fact it's easier that cooking up a burger because it can be done in advance. All you have to do is bake enough potatoes for your group and prepare different toppings to go on top. This might include ham, shredded cheese, chili, onions, jalapenos, bacon, and anything else your guests would enjoy. Simply set it out and watch your guests enjoy making their ideal baked potato.
Chili in a Biscuit Bowl
If you're looking to offer guests finger foods, you'll love this dish. Pat down ready made biscuits (found in the refrigerated food aisle) into a muffin tin and bake until golden brown. Prior to serving fill with your favorite chili recipe and allow guests to enjoy.
Empanadas
This delightful Mexican treat is the perfect option for those who don't want to serve up anything too messy. You can mix up your favorite dough or simply use croissants rolled out. Fill with pulled pork or beef, seal, and bake in the oven. Serve with your favorite BBQ sauce (or fill it to avoid having to pour sauces).
English Muffin Pizzas
Top split English muffins with marinara sauce, toppings, and cheese and bake until golden brown. If you want to make this an interactive experience for your guests allow them to top their pizzas with whatever they want. Provide sausage, jalapenos, pepperoni, mushrooms, and whatever else your guests might enjoy.
Ice Cream Bar
A quick and easy dessert your friends are sure to be talking about for years to come, the ice cream bar is a ton of fun. Select three different ice cream flavor and lay out unique toppings like gummy bears, fruit, crushed candy bars, and more.
Photo Credit: Photo courtesy of FoodNetwork.com