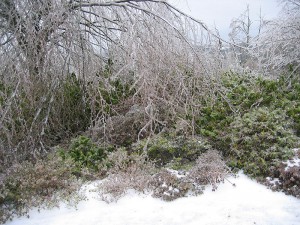 Winter is perhaps one of the most peaceful times to enjoy RVing. The cooler weather means you don't have to deal with the bugs or the heat that come with spring and summer camping. Additionally, because many people choose to either head south during the winter or park their RV and stay home the crowds you'll encounter are significantly less than what you find during the summer hours.
RVing throughout the winter means you'll need to prepare a little differently than you would for summer trips. The biggest threat to your RV during the winter is the risk of freezing. Letting your water holding tanks freeze could crack or bust them, which is a very costly repair. To prevent this you can add insulation and covering to your underbelly to ensure the tanks are protected. As a secondary precaution you may want to consider adding skirting to the bottom of your RV. This blocks wind from flowing underneath your RV, which ultimately lowers the temperature and causes the tanks to freeze faster. Another way to ensure your pipes are protected is to wrap them in heat tape and aluminum foil. This helps conduct heat and stop freezing. You can find heat tape at your local RV parts store.
Pointing heating lamps toward your water holding tanks is another smart way to prevent freezing. This is a great way to economically protect your RV, however, it is very important that you discuss the right type of heating lamp for your RV. Never use a space heater as these increase the risk of fire.
Once you've protected your RV it is important to protect yourself. Make sure you pack plenty of clothing that can be layered. It's also a smart idea to bring along plenty of blankets and even add insulation beneath your mattress so you don't allow air to flow up from beneath it..
Ultimately making winter camping as exciting as summer camping comes down to preparation. Being prepared means you're actively preventing any issues you might encounter and allows you to camp with confidence. If you have any other questions about RVing during the winter contact our RV service team. They bring the experience necessary to make sure you're fully equipped to handle winter camping.