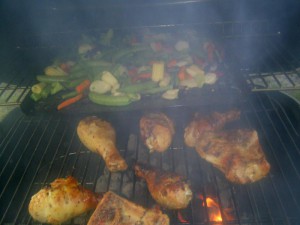 RVers are a unique breed of people. They have a certain zest for life that isn't quenched by a simple outing to the movie theater or dinner at a fast food joint. RVers live to try new restaurants and sample rare meals, take long hikes, enjoy a cold beer, make memories with friends and family, and take in the beauty our country has to offer. With this zest for life, though, comes the demand of RVing. From planning trips to packing snacks to getting an idea of what sights you wish to see, it's easy to lose sight of the most important part of keeping the RVing lifestyle something that is possible: your health.
We're not saying you need to be a gym rat who spends hours on end pumping iron and running on the treadmill, but you need to take small steps to stay healthy on the road so you can continue to enjoy a high quality of life. After all, if you're sick all the time or suffer a serious event like a heart attack, RVing will quickly become a thing of the past.
Staying fit on the road doesn't require some monumental overhaul of your life. By taking simple, small steps toward health you can easily improve your life and health without feeling like you're sacrificing.
Follow the 80/20 Rule | 80% of the time eat clean – meaning whole grains, fruits and vegetables, and proteins. The other 20% of the time allow yourself to indulge. Enjoy a milkshake or some chocolate. This approach to eating is the perfect way to enjoy the best of both worlds. Eating right is also the most important part of staying healthy and dropping some pounds (if you want to). Statistically doctors and personal trainers agree that diet is 80% of the battle of the bulge.
Aim To Get 30 Minutes of Daily Exercise | Now, getting 30 minutes of exercise on days that you are traveling seems a little unrealistic, but it's completely possible. Each time you stop for gas or at a rest area get out of the car and make it a point to do some jumping jacks, jump rope (you don't even need a rope to do this), or just walk around. This will get your blood flowing and reactivate your metabolism, which likely slowed down while you were sitting for the last 4 hours. After 3 stops and 10 minutes of exercise at each stop you'll have accomplished 30 minutes of exercise.
Get Your Protein | When packing snacks bring along high protein, lower carbohydrate snacks. Items like low fat string cheese, beef jerky, and even Starkist snack packs help reduce your hunger by regulating your blood sugar, take longer to digest, and provide plenty of protein, the essential building blocks of muscle.
Drink Water | You've heard people say this a thousand times and now it's time to pay attention. If you're not a big fan of water try enjoying tea or flavored, non-carbonated water. Carbonated beverages like soda can reduce your body's ability to absorb calcium and have been shown to be a factor in the onset of osteoporosis. Plus, water helps decrease bloat and flush excess sodium and toxins.
Don't Over Think | This is probably the most important rule. A healthy life doesn't have to be a boring life. Eating well can taste great, while exercise can be fun. By merely trying you'll notice a huge difference in how you live your life and your overall attitude toward health and wellness.
These 5 simple tips are a great way to live a healthy life while on the road, enjoy your vacation, and ensure you're around for years to come so you can share the RV lifestyle with others and make memories with friends and family. How do you stay healthy while traveling? Share with us on Facebook and Google+. You never know who your tips will help!