Looking for a trailer that will take you on your next favorite romantic getaway? We know that there are so many RVs out there that seem perfect and it can sometimes be overwhelming to find what you're looking for. This is why we've come up with a short list of 3 RVs that are under $30,000 that you and your spouse can take anywhere. Take a look at the list below and pull out key features that you'll want the most. This will make it a lot easier when finally purchasing that dream recreational vehicle!
1. The Flagstaff E-Pro Travel Trailer
Now HERE is the travel trailer for the adventurers! The simple, sleek look aids to its easy towing, the roof-mount solar panel means you can power appliances, and the sofa adds another sleeping space if you have a friend or child joining you for the travel.
Each model includes a WiFi Ranger WiFi Booster Sky 4 to enhance your WiFi and give you a secure connection wherever you land, which is great for those of you who work on your computer or want to make sure they keep receiving pictures on your phone of your kids or grandkids.
You will also enjoy kitchen amenities, full bathroom facilities, a gas/electric water heater with quick recovery, a Water-Pur filtration system, and exterior speakers to keep the party going all weekend long. Make your favorite chocolate chip cookies on the gas griddle outdoors, too! You'll be able to take the Flagstaff E-Pro anywhere, as it's smaller in construction and can easily be towed up the mountains or down in the forests.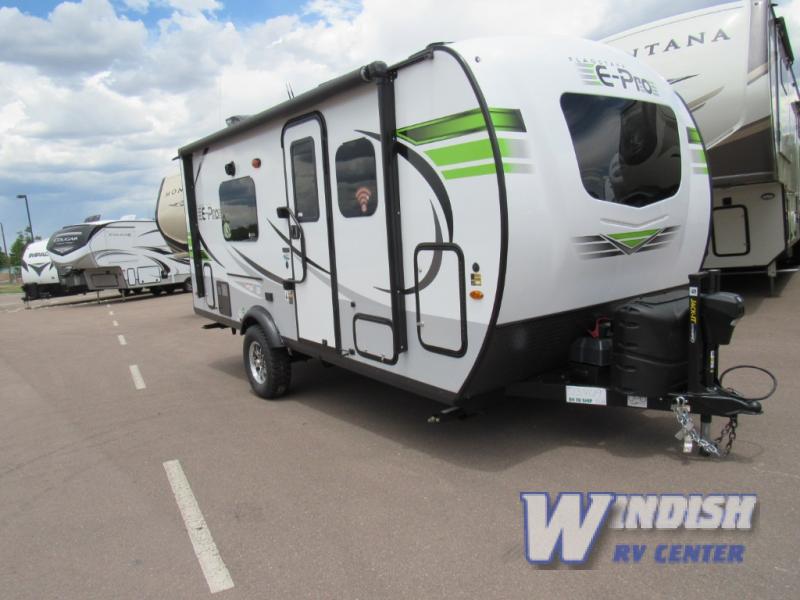 2. The Keystone RV Passport Travel Trailer
The Keystone RV Passport is a roomy trailer, so if you both need your space during the day this is the camper for you. If one of you likes to read and the other loves to watch their favorite show, this trailer will allow both of you to enjoy your activities without bothering the other.
In the Passport there is a Murphy bed, which you can pull down at the end of the day. You'll have plenty of space in the trailer to spend time together with it pulled up during the afternoon. You can also play cards on the booth dinette or cook a yummy meal on the outside kitchen when the weather is nice. There's nothing like grilling outside, enjoying the smells and scenery of wherever you end up.
The Passport comes in a compact design with travel-friendly lengths that are lightweight and easy to tow behind many smaller crossover SUVs. You will find several residential-style features such as durable Armstrong vinyl flooring, upgraded leather furniture with the tri-fold sofa, and interior doors, plus a deep-seated stainless steel sink with a pull-down faucet.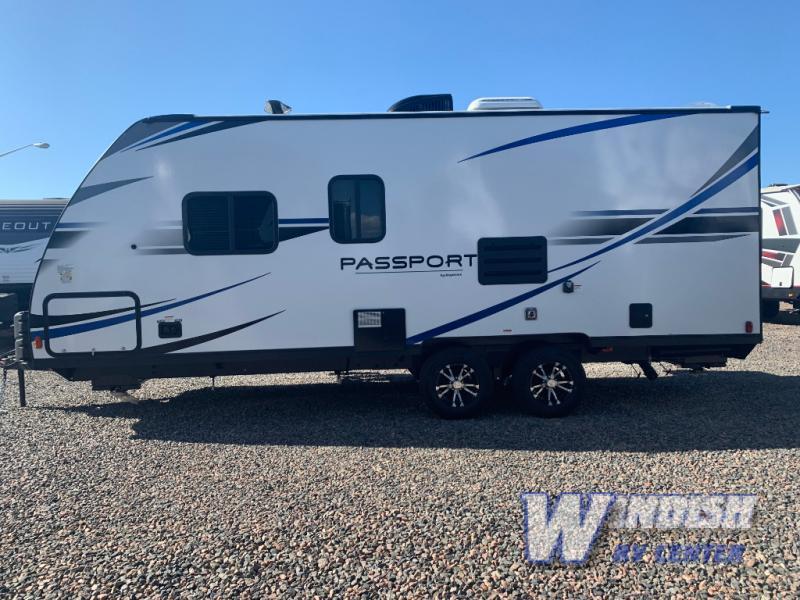 3. The Forest River Rockwood Geo Pro Travel Trailer
The Geo Pro is unique from the last two because it has extra storage space everywhere. If you and your significant other always have extra camping necessities to bring along, this trailer will be your greatest asset on your camping trips! You'll finally have the space to store everything you want to bring, and it's easy to do with all of the extra cabinets, storage under the bed, and storage outside the trailer as well. You can stow away your grilling sticks and camp chairs in the exterior storage, and the bike door allows you to stow away a few things inside.
It also has a private toilet and tub/shower separate from the rest of the trailer, giving you the experience of a full bathroom. The set of bunk beds, the full-size bed, and the 32″ booth dinette give this trailer the ability to sleep five people each night which means that you can bring the family with you as you hunt and fish or bike the trails.
The bunk beds, if not used for kids or grandkids, are perfect for extra storage space, as well! You'll be able to put extra laundry baskets or boxes full of your necessary items on each of the beds. Or, if you have small pets, you can even place their cages in the space, as well! It's a simple solution to all of the things you like to bring on long, seasonal trips. There is also a gas griddle on the outside of this trailer as well, so bring on the bacon and eggs!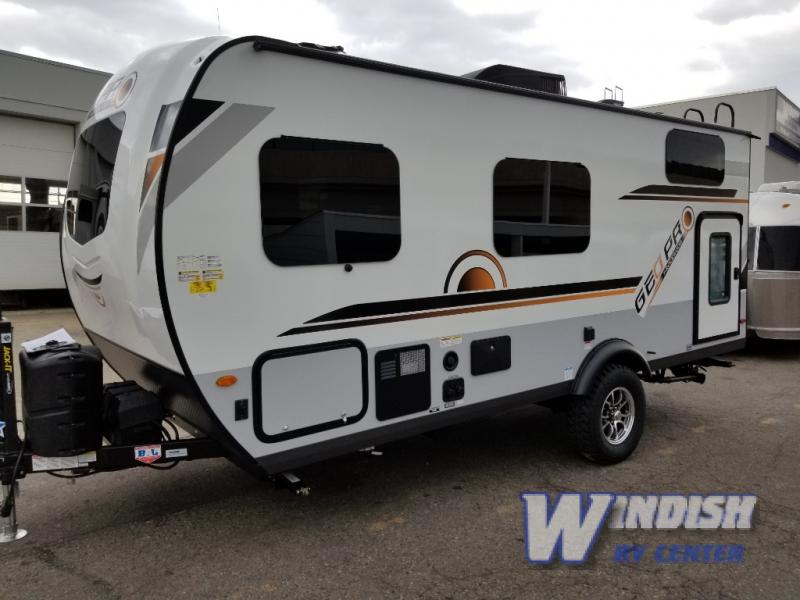 If you have any questions about these trailers, please contact us today. We'd love to help you figure out exactly what you want for your next camping adventures with your significant other! We wish you happy camping with our RVs under 30k!