It's been a while since we've talked about our used RVs for sale, but that's not for lack of awesome choices. If you have been searching for that dream RV, don't hurry over the used RVs. We've got plenty of fantastic inventory for you to choose from at great prices that will make your day. Honestly, we have 2020s that have been barely used and we have some older, smaller RVs for great deals that might be exactly what you're looking for. So let's take a look at the two we've pulled from the stock today and highlight a few of their great features.
1. The 2016 Dutchmen RV Voltage Toy Hauler Fifth Wheel
Enjoy all of your camping adventures on the trails with this Voltage toy hauler fifth wheel by Dutchmen RV. Model 3800 offers a 12′ up to 14′ cargo garage, one and a half baths, a twin loft above the garage space, and so much more! You and your family will rock at camping by the time you take this out on the road.
If you're looking for an RV that can hold a few of your outdoor toys, the Voltage is for you. The garage is large enough for a four-wheeler or a few motorcycles or even a dirt bike if you're one to hit the trails and get crazy. You can easily load your gear using the spring assist rear ramp door. The exterior has a long list of exceptional features, including a convenient gasoline pump station. This unit also provides a complete pass-through compartment for all of your outdoor gear!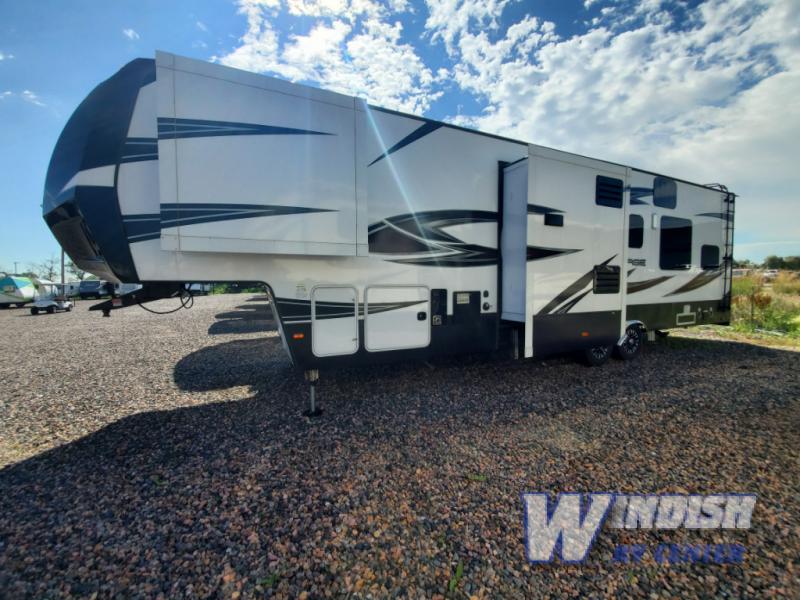 There is a twin loft above the 1/2 bath and garage area that the kids will surely love. It overlooks into the main living space. The 1/2 bath features a toilet and a sink which is right inside the main cargo man door to your right for added convenience. The kitchen area features an L-shaped counter with double sink, a three burner range with overhead microwave, a 12 cu. ft. refrigerator, and two pantries for food storage needs. You'll have everything you need to keep the cook happy in this toy hauler.
A nice flat screen TV is across the room along the angled exterior bathroom wall for perfect viewing. The steps just inside the main entrance lead into the complete bath, featuring a neo-angle shower, toilet, a vanity with a sink, and dual overhead cabinets. Additionally, a second sliding door that leads into the master bedroom. The master bedroom features a comfy queen-sized bed with a hinged top, dual nightstands, and a large slide-out dresser that is flanked by two wardrobes.
Clearly the Voltage has a lot going for it, including the price tag. Because it's used, we can give you the best deal.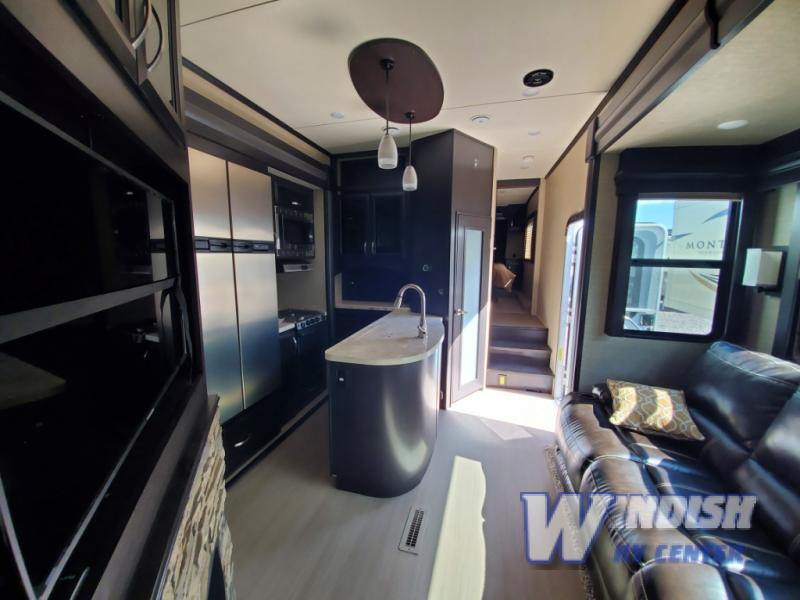 2. The 2020 Forest River RV Cherokee Alpha Wolf Travel Trailer
The Cherokee Alpha Wolf travel trailer is the first of Cherokee's line up to be fully laminated, which makes it lightweight, well insulated, and able to provide a sleek and modern exterior. The tire pressure monitoring system and exterior shower with hot and cold water add to the usefulness and value of the Alpha Wolf, and the LED lighting on both the exterior and interior delivers a bright and cheerful atmosphere no matter what time of day it is.
Cook amidst nature with the exterior kitchen while your kids play around on the camp site or in the trees near your RV. This way you can watch them easily but still prepare meals and access cold drinks without going inside.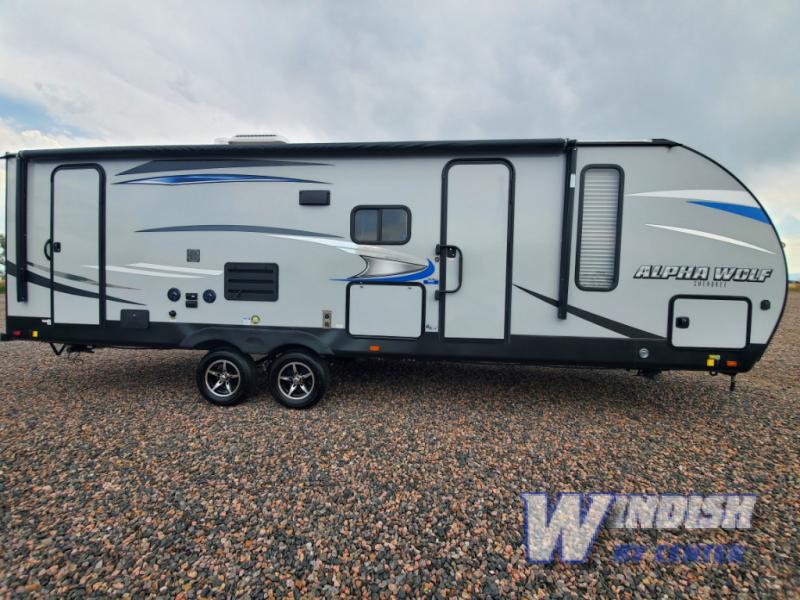 Inside of the Alpha Wolf you will find blackout kitchen appliances in the kitchen and plenty of storage for your pots and pans underneath the sink.
The double entry doors give the entire trailer an extra convenience that you normally don't have while camping. They not only provide privacy, but they also give any of your morning birds or night owls a chance to stay outside and enjoy their time alone while the rest sleeps peacefully inside. With two doors, it's a lot easier to slip out and relax in nature!
This extravagant model is able to sleep ten people because of the set of double-size bunks, the queen-size bed in the front private bedroom, and the Super U-shaped dinette. Either settle in for a game of cards on the table or lounge on the jackknife sofa in the spacious living area. With two entry doors, you have easy access into the trailer as you load up for the adventures ahead or unload once you've returned home, and the walk-in pantry is a big help in storing all of your canned goods and non-perishables so that they are ready to go when it is time to prepare dinner.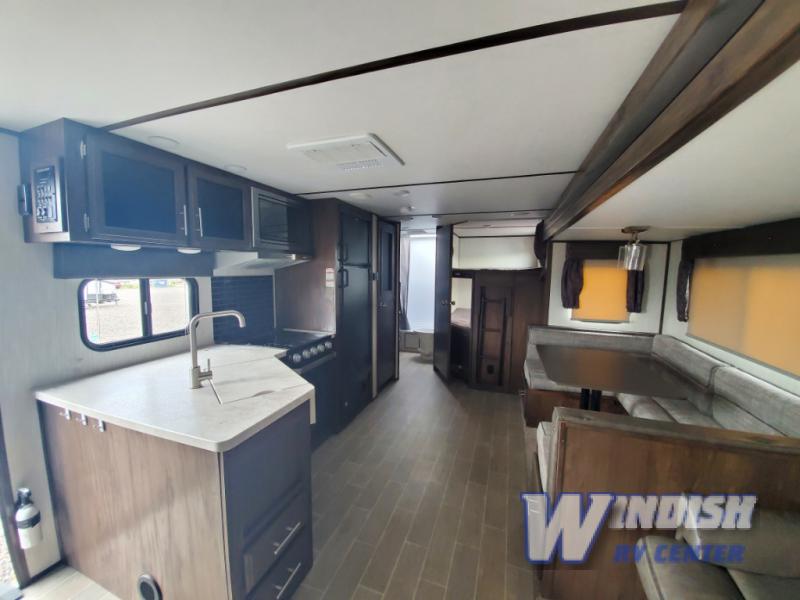 We try to give our customers the best deals when it comes to used RVs. They're easily better priced and have few hiccups from one RV to the next. Buying used is the way to go if you're trying to save money and camp with just as many features and luxuries as if you'd bought it new. If you have any questions about our specific RVs, please contact us today. We'll provide all the details you need to start your new RV adventures!