When you're looking for a fifth wheel, you want something that's not only going to give you an easy haul, you want a durable construction that will last for years down the road. And, of course, some fine decor touches wouldn't hurt, as well. So where you do you look with so many choices on the market? For quality craftsmanship, enduring construction, and residential features to make the space feel like home, look no further than the Redwood fifth wheel lineup.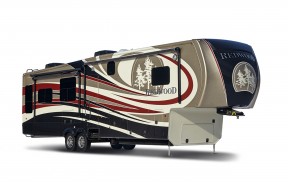 Engineered with high quality features throughout and a practical floorplan ideal for family travel, the Redwood fifth wheel lineup offers you the standard features you deserve while traveling. Starting with its double welded aluminum frame construction and 2″ laminated sidewalls, Redwood fifth wheels are built with a solid foundation that will hold steady mile after mile. And with an aerodynamic front cap design and towability by a short- or long-bed pickup, you'll be able to pull these fifth wheels with ease. 
Of course, long-lasting construction is important, but what difference does it make if you don't actually enjoy spending time in the fifth wheel? With their well-appointed interiors Redwood fifth wheel, comfort and relaxation will always be at the forefront of any journey.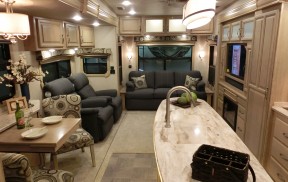 With its top-of-the-line appliances, like a Norcold refrigerator and 22″ bakers oven, Redwood fifth wheel kitchens are made for gourmet meals on-the-go. And with an range of decor choices, these are kitchens you will enjoy spending time in — although maybe not as much as you will enjoy dining on the buffet dinette with high-back chairs. Or in the fresh air under the awning.
If you love to entertain, the Redwood fifth wheel lineup is definitely for you. Furnished with Diamond Collection pieces and with a range of seating options, you and your guests will relax surrounded in the highest level of comfort. And when your guests have returned to their homes, head to your bedroom retreat for the ultimate in relaxation. A queen-sized iCool mattress and night roller shades come standard in a Redwood fifth wheel bedroom, and if you're looking for more comfort, upgrade to the Parks Package to sleep on a memory foam mattress.
For the highest in durability, comfort, and absolute beauty, the choice is clear —  Redwood fifth wheel is for you. To see for yourself all the fine touches in this quality lineup, visit one of our two locations today!