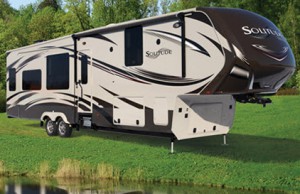 Taking a road trip across the country is a dream many have, but few accomplish. It takes, planning, diligence and hard work. As you begin to plan for your first long RV trip, here are some tips you may want to consider. Long, for the sake of this article, is defined as more than a month away from home, although many of these tips can be applied to two and three week long trips as well.
Pet Care
Ask yourself if you want to bring your pets with you. It is likely more affordable to bring them along, rather than put them in a boarding facility or having to pay for someone to watch them. Just remember if you do bring them with you you'll want enough food to last them the trip (in case you can't find it where you are when they run out) and will want to ensure wherever you're camping allows dogs. Cats aren't a big deal because they stay inside your RV. It's also a smart idea to have a list of everywhere you plan to stop and make note of local emergency veterinary clinics in case something requires a visit (hopefully it won't).
House Sitter
Hire someone to come to your house once a week and check on it. Schedule to have your mail stopped and ensure you have online access to any accounts that need to be paid so you can do so while on the road. You'll want your house sitter to water plants, keep an eye out for anything unusual and also be ready to accept unexpected packages via UPS or FedEx.
Plan Ahead
This time of year most campgrounds are packed. The ones that have open spaces typically have their less desirable spots open. If you're eager to get a great spot in a nice campground plan ahead and make your reservation. While it is fun to fly by the seat of your pants, there's something to be said about pulling into a campground and knowing they have a spot with your name waiting. When it comes to planning the same goes for activities. Many attractions are booked this time of year. Ensure you purchase tickets ahead of time and arrive early for great seats or to beat lines.
Prescriptions
Ask your doctor about getting a 90-day prescription for your medications. This will ensure you don't run out of them. If you'll need more than a 90-day supply you can always ask your house sitter to pick up your prescription and mail it to you. Either way, prepare ahead to ensure you get your necessary medications.
Budgeting
When you're on the road for a while it can be quite easy to lose track of your budget. Try carrying cash and withdrawing only what you'll need for a week at a time to stay on track with whatever budget you and your travel buddy or spouse decide on.