This Memorial Day recipe is great for making around the campground! It's refreshing, quick, and packed with veggies. So, grab some skewers and get ready to enjoy your Memorial Day celebration at your favorite camping destination!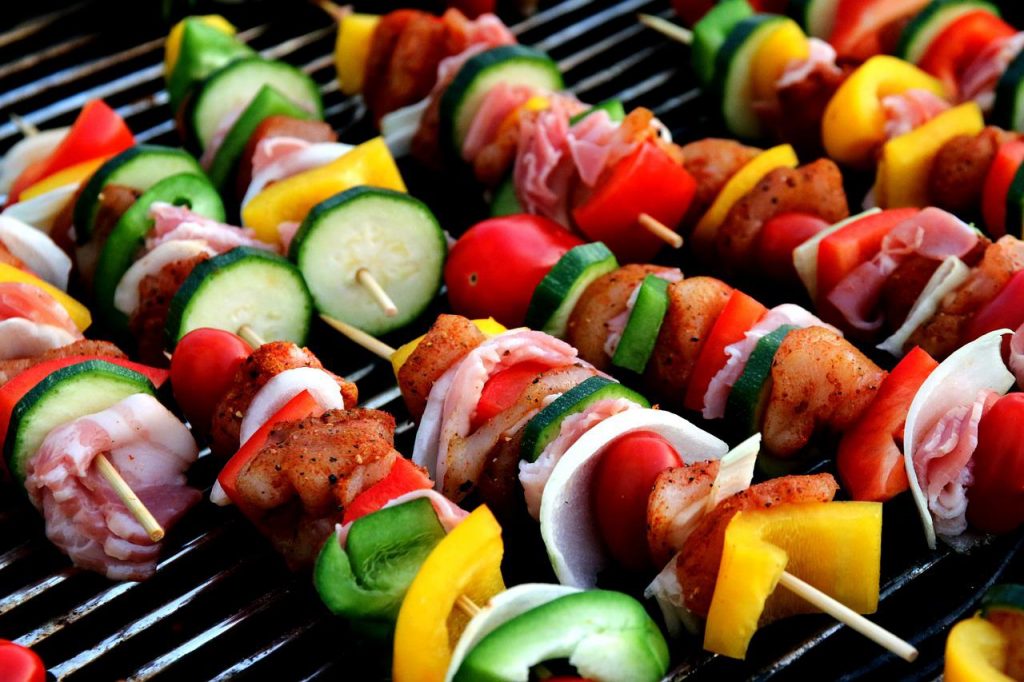 What You Need:
2 skinless boneless chicken breasts, cubed
1 onion cut into 1-inch pieces
1 yellow bell pepper cut into 1-inch pieces
1/2 pound fresh mushrooms dirt removed with wet paper towel
10 oz package cherry tomatoes
16 oz bottle Italian salad dressing
4 servings cooked rice
Skewers
What to Do:
Add the cubed chicken breast and half of the Italian dressing to a gallon zip-top bag.
Seal the bag and massage to thoroughly coat the chicken.
Add chopped onion, bell pepper, and mushrooms to a separate gallon zip-top bag and pour the remaining dressing over the top of the veggies, seal, and shake to coat.
Place the bags in the refrigerator to marinate for 4 hours, turning every hour to ensure it soaks evenly.
If you are using bamboo skewers, soak them for an hour in water before use.
Skewer the chicken chunks, separating the pieces with a onion.
On a separate skewer, thread the bell peppers, onions, mushrooms, and tomatoes.
Build a strong fire and lower the cooking grate. Clean it with a pair of tongs and a wet paper towel and then oil it with a paper towel dipped in oil. Just clamp it between the tongs and brush it over the grate to prevent sticking.
Place the kebabs on the grill and cook for 10-20 minutes until the veggies are just charred and the chicken reaches an internal temperature of 165F.
Serve with rice!
Contact us to find the perfect RV for your family today!