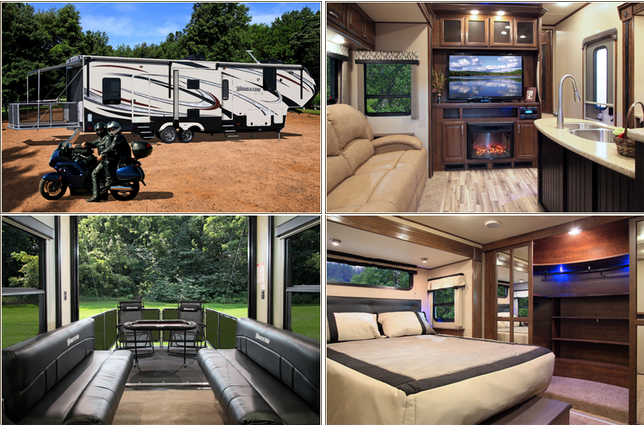 DO you bleed dirt, mud, or water? Do each of your vacations circle around your hobby of dirt biking or ATVing? If so you're probably the perfect candidate for a toy hauler. These are unique RVs that feature a garage that allows you to securely store your toys and take your hobbies on the road with you. Choosing a toy hauler largely depends on what stage of life you're in, how you plan to tow it, your budget, and of course what your toys are. Chances are you've thought about these things, so we put together a list of tips to help you as you shop for your toy hauler.
Living Space | As you look at toy hauler plans consider how much living you plan to do in the RV. This might sound silly, but if you're the type of RVer who spends most days outside and really only uses their RV to sleep, a simple, practical travel trailer toy hauler might be just what you need. If you enjoy luxury living and desire more residential features – including residential furniture, beds, and more – you'll probably want a toy hauler fifth wheel. Whatever you decide make sure you've thoroughly thought of how you plan to live.
Kitchen | All toy haulers come with a kitchen, it's just that some are better than others. Small toy haulers that don't necessarily have a garage and instead store your toys within the unit tend to have two burner ranges, single sinks, and less counterspace. If you prefer to grill out or grab a quick bite at a local fast food joint, this type of layout might work for you. But, if you enjoy cooking and want a more gourmet kitchen, you'll want to go with a larger, more luxurious toy hauler like the Grand Design Momentum.
Slideouts | Slideouts are a wonderful addition to the RV industry. The allow you to expand your RV when it is parked so you don't feel cramped and can live like you're at home. Here's the deal, though. While these are great features they tend to add a lot of extra weight to your RV. If you go for a toy hauler with slide remember they will weigh more than comparable RVs without slides.
Load Capacity | Keep in mind that while your toy hauler might tow with your truck, once you add in equipment and toys the weight increases. Know which toys you're planning on towing, how much weight they'll add to your RV's weight, and have a rough estimate of any equipment you'll bring along.
Consider Used | Here at Windish RV we've got a great selection of new and used toy haulers. If you're flexible on the floorplan you want and amenities, you'll likely find a used toy hauler that meets your needs and is incredibly affordable.
If you're interested in finding a toy hauler that works for you stop by one of our two Colorado RV dealerships, view our selection of new and used toy haulers online, and contact us with any questions you have. As the #1 toy hauler fifth wheel dealer in the country, we have the experience necessary to answer any questions you have.