The Raptor has completely done away with the old, rugged toy haulers of years past and has reinvented what it means to travel in style! With additions like the large 18 cubic foot refrigerator, it is no surprise that these models are at the top of everyone's wish list. Our Keystone RV Raptor Toy Hauler Fifth Wheel for sale is built in a modern style with a luxurious twist. For more details, continue reading our Keystone RV Raptor Toy Hauler Fifth Wheel Review…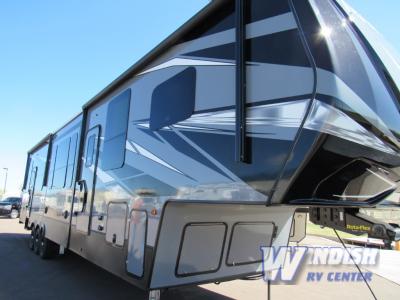 Keystone RV did a great job in building a safe and durable construction for the Raptor. The exterior features 12" x 2" self-adjusting electric brakes, a heated and enclosed underbelly, and a double-welded aluminum construction. This ensures safety for everyone in the fifth wheel, and for the fifth wheel itself when you're towing it.
The exterior also boasts an aluminum step garage entry, large fold-away entry assist handles, and large tinted safety glass windows. The gray high-gloss exterior sidewalls and the fiberglass front cap (with MaxTurn Technology) will keep the walls from scratching as easily from the dirt on the roads. There is also an outside shower that is extremely beneficial for your days out on the trails. Come back to wash off quickly and keep the inside of your fifth wheel clean.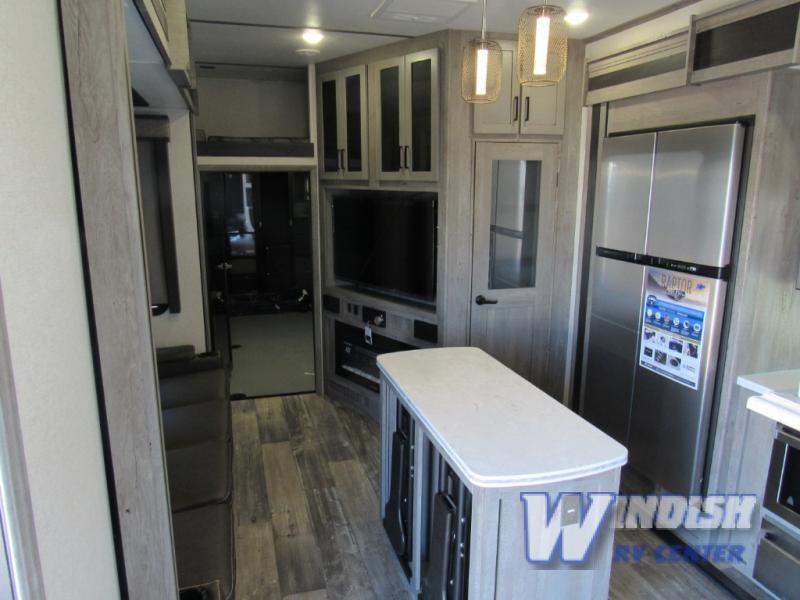 The interior of the garage provides a pull-down screen and a pull-down 32″ TV, so you'll be able to relax and hang out on the electric beds with dual opposing flip-down sofas in the garage when you've got your toys parked outdoors. The garage has ducted head and cooling, so it's the perfect place to chill.
The living area provides two speakers and the cargo area has two speakers as well! You'll be able to play your favorite playlists and dance from anywhere in the toy hauler. If you're not feeling like going back to the cargo area, find refuge in the living room with the 50″ LED TV. Grab a bag of chips from the hardwood cabinetry and settle down on the reclining furniture with heat, light, and massage. Like we said before, modern with a luxurious twist!
If the two other TVs weren't enough, you'll love the 32″ TV in the bedroom! The king bed makes it more comfortable to watch your favorite shows when it's time to relax at the end of the day.
The kitchen has a large stainless steel sink, with solid-surface counter tops with LED backlighting (so you'll always be able to see what you're doing when you're in the kitchen). The USB ports in the sofa slide-out box will allow you to keep your phone charged at all times.
There is also a power vent in the master bedroom, and a dual-entrance to the master bath. This way, you and your family will have a little bit of privacy both ways.
Here are some additional options that make your toy hauler a little bit more personal:
Onan® 5,500 watt gas generator
Rear-ramp patio with electric awning and side-entry steps
King bed
Three-season patio door
265 watt solar panel w/2000 watt inverter
Frameless dual-pane windows
131" sofa with recliners (426 and 428 only)
High definition paint—white, blue, orange
Dinette seat with slider-top (425 only)
If you've found you love the modern look of the Raptor Toy Hauler and you can't get enough of the little luxurious twists throughout the entire recreational vehicle, contact us today! We'll answer any questions you have and provide you with more details. We wish you happy camping!