With 12 floorplans to choose from–each with unique styles that will be most convenient to you–it will be easy to fall in love with our Cougar Half-Tone Series for sale! Each interior includes "must-haves" that you'll notice right away, and every exterior is built with a durability that you can appreciate. Whether you are family-oriented or a single on the road, you'll find the Cougar to be just what you're looking for in an RV. For more details, continue reading our Keystone RV Cougar Half-Ton Series Review below.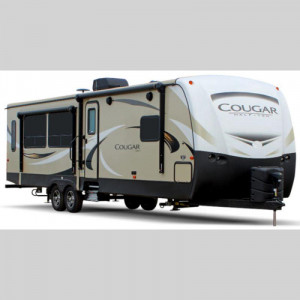 The exterior of this beautiful Cougar Half-Tong includes laminated side walls with 5-sided aluminum Superstructure, the exclusive 90 degree plus MaxTurn technology frame and hitch design for unparalleled maneuverability and Hitch Vision for faster and easier hook-up on the fifth wheels.
In addition to all of those amazing features, check out the "Smart Trailer" features that bring technology to the next level in these recreational vehicles. These features include (but are not limited to) the iN-Command Generation 3 with Global Connect giving owners total control over power, slides, awnings, HVAC and more!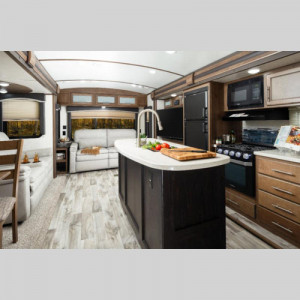 The Cougar Half-Ton Series is unique, in that all features come in specific packages! The Camping in Style Package includes features such as the fiberglass front cap with hitch vision and LED lights, cabinet doors with residential hardware, a batter disconnect switch, LED interior, and beautiful Cougar vintage maple glazed hardwood that warms the atmosphere.
The Anniversary Package provides you with an 8 cubic ft. refrigerator for all of your camping food necessities, a microwave, foil warp seamless galley and lavatory counter tops, and gourmet stainless steel under mount sink with an upgraded Chef's faucet and sprayer. For a more luxurious spin on the fifth wheel, the package also comes with a Cougar Quick Camp multifunction remote.
The Comfort Package includes a 15,000 BTU ducted air conditioner and dual 20LB LP tanks. The 35K BTU ducted furnace will come in handy for all of those chilly evenings! The Polar Package provides a few other features you may be interesting in:
Forced-Air Heated and Enclosed Underbelly
Enclosed Dump Valves
Astrofoil Insulated Slide Floors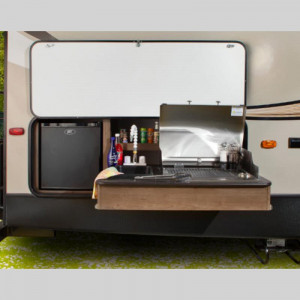 And you won't want to miss out on the outdoor kitchen! Take the time to grill outside with friends and family, getting the full experience of camping with the Cougar Half-Ton Series for sale. If you have any questions about these beautiful RVs, please contact us today. We'll be happy to provide you with the recreational vehicle that you've been dreaming about.