The 2016 Airstream RV Interstate Lounge EXT is here and if you're looking for a stunning, agile touring coach to explore the country, then meet your match. This is a touring coach made for the long haul — durable, sturdy, and so very attractive, the Interstate Lounge EXT will be a part of your memories for years to come.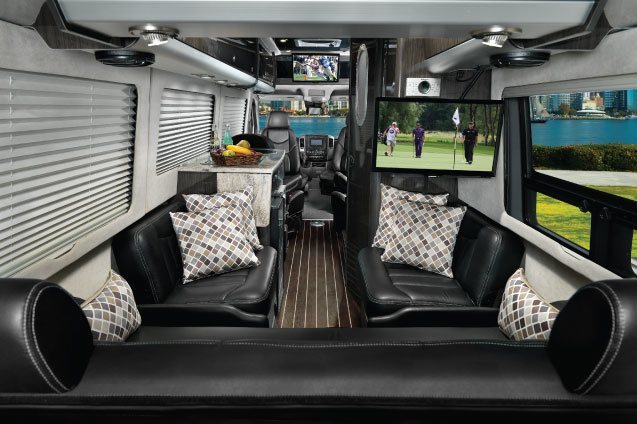 Built on a Mercedes-Benz Sprinter Chassis with a 3.0L CRD V6 BlueTec engine, the Interstate Lounge EXT has the power to take on any uphill challenge. And with a 33 gallon fresh water tank, 21 gallon grey water and 10 gallon black water tank, the Interstate Lounge EXT you can take on mile after mile without stopping.
The Interstate Lounge EXT is an absolutely beautiful touring coach, inside and out. Large, frameless windows let natural light pour in, brightening the space and creating an airy environment that is welcoming and relaxing. With its expanded size and unobstructed views from front to back, the Interstate Lounge EXT gives you the space you want with the agility you need to set out on your most ambitious of journeys.
Stylish and sleek, the Interstate Lounge EXT has the space to sleep two comfortably, and the seating to entertain up to nine. With its plush and comfortable flexible seating and space-saving kitchen, you'll be entertaining (and impressing) any guest along the way. Rather enjoy a meal outdoors? Extend the power awning and relax in the fresh air — no matter how your choose to spend your time in the Interstate Lounge EXT, you will be surrounded by beauty.
Thanks to an abundance of interior storage and the addition of an exterior compartments, the space will stay clean and organized, giving you more opportunities to admire the tasteful decor.
Beautifully crafted and ready for the road, the 2016 Airstream RV Interstate Lounge EXT is a popular model that won't last long on the lot. Visit our Lakewood, CO location today to see for yourself all the features packed into this elegant Class B!