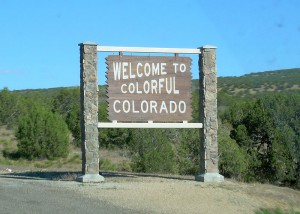 Colorado is more than just a skier's paradise. This beautiful land of sky high mountains, pristine lakes, and unparalleled views offers something many other states cannot: pure, untouched hot springs. Imagine putting on your bathing suit and relaxing in a hot bath while snow falls around you. It might sound like something you'd find in the Swiss Alps or in a Hollywood movie, but the truth is Colorado has a huge variety of hot springs that can be found throughout the state.
Hot springs are the result of spring water being heated by deep underground volcanic activity. A true hot spring will have a consistent temperature that is above the mean average air temperature.
From soothing your muscles to soothing your soul you can seek and find solace in Colorado's hot springs. If you're looking for a romantic getaway you'll love the beauty offered from Dunton Hot Springs. Set in an Alpine valley in the San Juan Mountains of the Rockies this 5 star resort offers a variety of cabins that back up to both the hot springs and beautiful pieces of land that offer stunning views of wildlife.
If you're looking for the real Colorado hot spring experience you'll love Rainbow Hot Springs, which can only be accessed by hiking. Located in the pristine, remote Weminuche Wilderness Area Rainbow Hot Springs can be reached after a 2-3 hour hike through the woods, where you eventually gain nearly 1,000 vertical feet. Two separate pools can be found throughout, along with several campgrounds surrounding the area. The lower pool typically runs around 95 degrees, while the smaller upper pool is located closer to the source of the springs and, therefore, is warmer at around 105 degrees.
Another hot spring that can be accessed only by hiking trails is Penny Hot Springs. Located just past Carbondale, Colorado and not too far from Aspen, this naturally fed hot spring lies between huge granite cliffs and is surrounded by tall forests and grand boulders. A portion of this hot spring located along the Crystal River is sectioned off and measures around 15-20 feet across and 2 feet deep. Usually around 12 people can fit comfortably into it.
Heading out to The Centennial State promises more than just ski hills, upscale shopping, and unabandoned outdoor adventures. The natural beauty you'll encounter will blow your mind and the relaxation, peace, and ease you feel will make you never want to leave. Discover the appeal of Colorado and the relaxation offered at its many hot springs and start planning your vacation today.