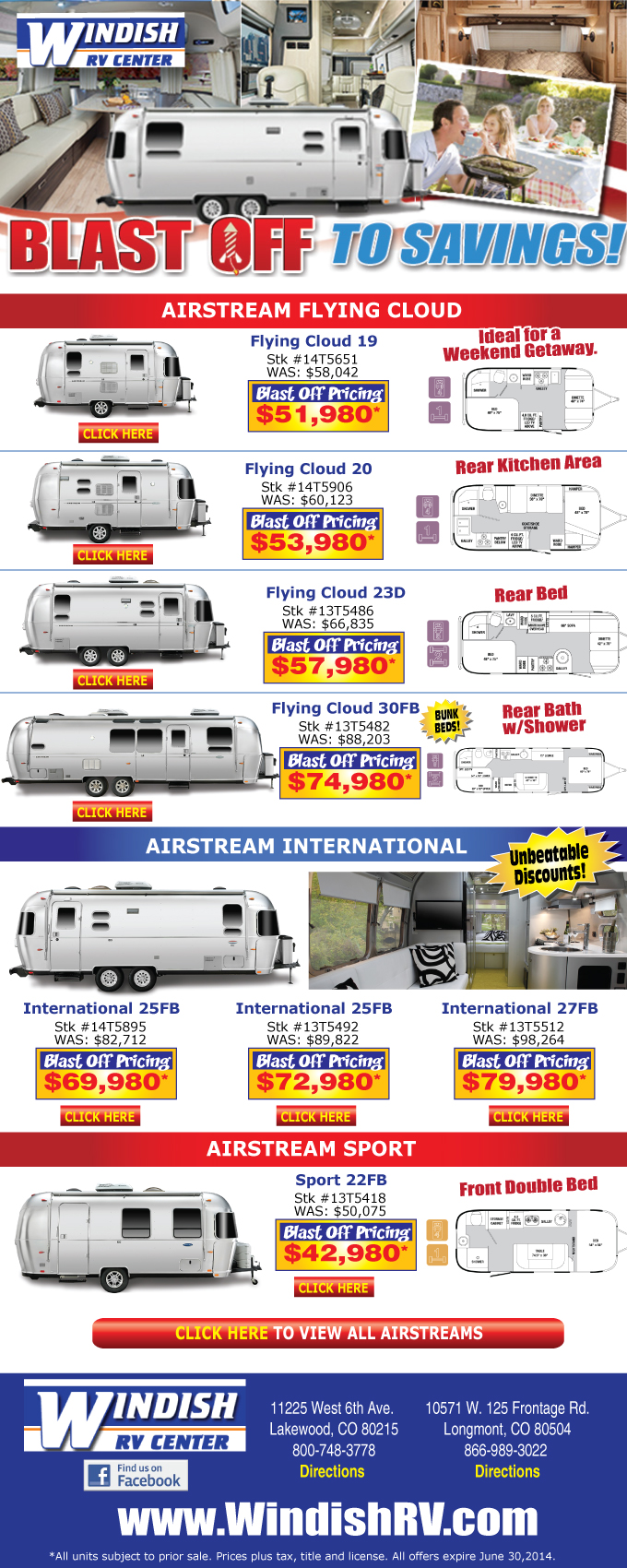 We're hosting our Blast Off Into Savings sale where you'll save thousands on Airstream Travel Trailers. At Windish RV we are proud to offer the Airstream Flying Cloud, Airstream International, and Airstream Sport. All of these trailers offer the unique appeal of Airstream and are sure to make you a happy camper.
Airstream Flying Cloud
The Flying Cloud offers a modern design marked by clean lines and functional design. From the fixtures to the furniture, you're sure to love the contemporary design of this travel trailer. It sleeps between 4 and 8 people. The Flying Cloud is lightweight and offers an interior that was designed for maximum functionality thanks to features like extra counter space and under seat storage. And, thanks to the combination of its lightweight design and aerodynamic design you'll find yourself saving plenty of money at the pump so you can take more and more vacations throughout the year.
Airstream International
Airstream International is offered in Signature, Serenity, and Sterling models. Airstream International Signature is a simply designed travel trailer that offers space for 2-4 people. It's ideal for couples. The Airstream International Serenity brings eastern peace to RVing through lemongrass and rice paper accents and a smoothly designed space. It can accommodate 4-8 people, making it perfect for families. RVers seeking complete comfort without a lot of bells and whistles will love the International Sterling because of its practical design.
Airstream Sport
Made for those who simply want to hitch up and go, the Airstream Sport sleeps between 2-4 people. Its ultra lightweight design makes it easy to tow using SUVs and half-ton vehicles. The Sport is classified as a Bambi by Airstream because it is a single axle trailer.
If you're interested in learning more about our available Airstream units contact us or view our selection online. We'll answer any questions you have and make sure you find the right floorplan for your needs.