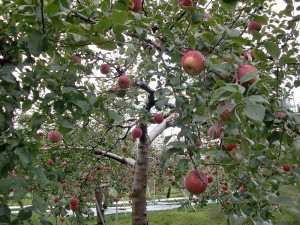 Fall is the time of year when you want get outside, enjoy the weather, and then come inside and enjoy a delicious treat while warming up next to a fire. Whether you're a fan of pumpkin flavored treats or enjoy delicious apple pie, you're sure to love these recipes we found. Cook them up and enjoy it for yourself or share some with friends and family. Either way you need to try these recipes.
Hungarian Apple Soup
Who knew apples could serve as more than just a snack? This savory soup brings together potatoes and tart apples and tastes like fall is having a party in your mouth! It's served with sour cream and is a great appetizer or meal. To bulk it up a little more you can add chopped or shredded chicken and enjoy as a full meal.
Get the recipe here: Hungarian Apple Soup
Apple Pie Pops
Apple pie is delicious, but one of the main problems is that it can get a little messy, especially if you haven't quite mastered making the perfect crust. Enter these convenient apple pie pops. They're small enough that you can enjoy them as a daily treat without worrying about putting on too much weight and are easy to make. You also won't have to be concerned about losing your filling.
Get the recipe here: Apple Pie Pops
Pumpkin French Toast
Who doesn't love French toast in the morning? This recipe is made the night before and requires under 10 ingredients and takes less than 30 minutes to cook up. This can be a treat on the weekend or served up as breakfast before heading out for school or work.
Get the recipe here: Pumpkin French Toast 
Cinnamon Sugar Pumpkin Soft Pretzels
If you're looking for a treat that is not only delicious, but also easy to carry around, look no further than these soft pretzels. Salty pretzel comes together with sweet pumpkin to create a snack you'll want in the house at all times.
Get the recipe here: Cinnamon Sugar Pumpkin Soft Pretzels
Mini Caramel Apples
Eating a whole caramel apple can cumbersome. It gets a little messy and is a lot to handle. Enter these delicious mini caramel apples that are simply scooped out of a whole apple and dipped in caramel. Both kids and adults will love these and they make a great appetizer at any party.
Photo Credit: By Kamimoku International Village (Own work) [CC-BY-SA-3.0 (http://creativecommons.org/licenses/by-sa/3.0)], via Wikimedia Commons