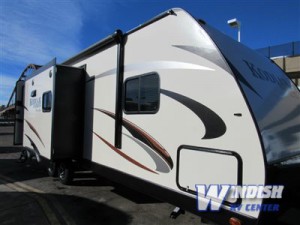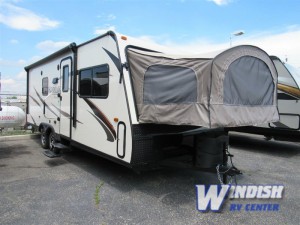 We are lucky to be campers in this day and age. There is more variety in travel trailers and RV features now than ever before. Each new year brings a fresh batch of RVs made from stronger and lighter materials than the year before. The light weight RV market, in particular, has made huge advancements in the past few years. There's a good reason for that. Light weight towing means spending less in fuel and spending less for a tow vehicle. Saving money means more time for camping!
Here at Windish RV, we would like to highlight a lightweight winner, the Dutchmen Kodiak Express Travel Trailer.
The Kodiak comes in a variety of floorplans as well as in many expandable versions. If you are looking for a camper light enough to be towed by your SUV, minivan, crossover or light truck, consider the Kodiak Express. The Express model series features the same aluminum frame construction as it's higher end Ultimate cousin as well as the same spacious interior storage, stainless steel appliances, power awning and upgraded residential grade furniture.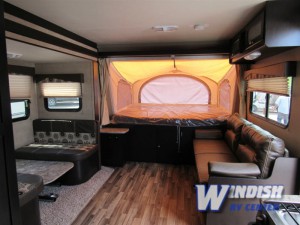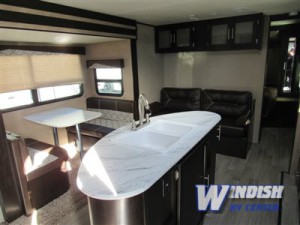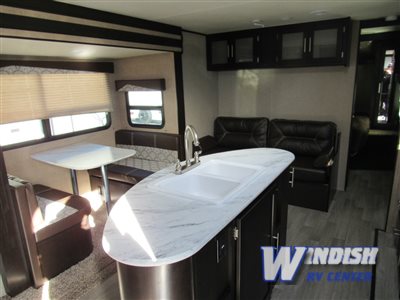 Whether you are considering one of the expandable or enclosed travel trailer models, you will be impressed by the quality of the interior design. Comfort is one of Dutchmen's highest priorities. The residential style seating is perfect for cozying up while relaxing in the evenings after a busy day of camping fun.
Get ready for the Kodiak kitchen! Stainless steel appliances, a kitchen island, and spacious counter tops are some of the features that set this coach apart from other campers in it's class. In addition, the Kodiak features all new custom cabinetry design so the storage space has now been increased by 40%. Enjoy, taller, and deeper overhead cabinets than before.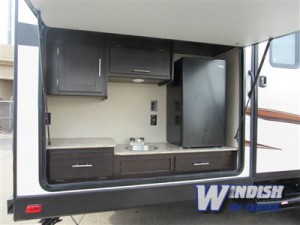 Looking for a light weight travel trailer with an outdoor kitchen? Check out the Kodiak 299BHSL which includes a full outdoor kitchen with refrigerator, sink, and a two burner stove. This bunkhouse floorplan also sleeps 8.
The Kodiak Express Expandable camper allows for plenty of comfortable sleeping space while keeping the dry weight down so towing is a breeze. The nice thing about sleeping in an expandable is the ability to enjoy the sound of the crickets chirping and the campfire crackling, while still being as comfortable as you would in an enclosed trailer. Let nature serenade you to sleep!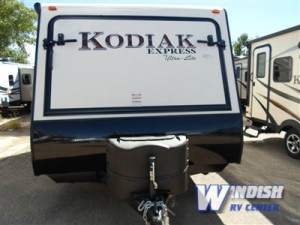 If you would like more information on the Dutchmen Kodiak Express or any of our other light weight travel trailers, Contact Us at Windish RV. We'd love to hear about your upcoming travel plans!