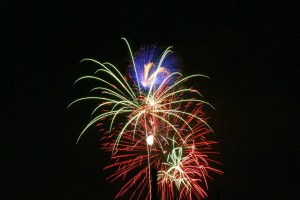 Independence Day is probably one of the most exciting holidays of the year. Fireworks, delicious food, wonderful weather and of course RVing! Before you hit the road you might want to start planning the recipes you'll enjoy when you hit the campground. Here are a few that are sure to delight your entire family.
Who doesn't love mac n' cheese? It's delicious and the perfect side dish to a 4th of July BBQ. Unfortunately, it can be a little cumbersome to eat on the go. These cupcakes take the inconvenience out of the dish by making it super portable. This makes transporting it to your destination easy as well as eating it.
An Oreo on a stick! Enjoy this delicious treat that's portable and super easy to make. There's no baking required, which means the kids can even get involved with creating these treats. You can roll in red, white and blue sprinkles or roll in your favorite crushed candy bar, dried fruit or whatever else floats your boat.
Jalapeno Bacon Poppers
Add a little spice to your BBQ. Grab some jalapenos (make sure you wear gloves), pull the seeds out and stuff with cream cheese. Wrap in your favorite bacon and throw on the grill until cooked through. Squeeze a little lemon juice on top for a nice tang that also helps cut some of the spice down.
4th of July Punch
This red, white and blue drink is incredibly easy to make. Pour equal parts of red fruit punch, blue Gatorade, and Sprite. The colors will separate creating a red, white and blue drink that adults and children will all enjoy. Adults can add alcohol if they want.
Photo Credit: "Fireworks over Prescott Valley Arizona, USA 04" by Draper – Own work. Licensed under CC BY-SA 3.0 via Wikimedia Commons – https://commons.wikimedia.org/wiki/File:Fireworks_over_Prescott_Valley_Arizona,_USA_04.JPG#/media/File:Fireworks_over_Prescott_Valley_Arizona,_USA_04.JPG