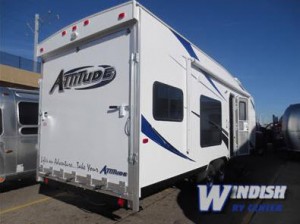 Winter's cold weather, snow, and blustery winds are here, which means it's time to break out your snowmobile, polish it up, and get ready to hit the trails and tear up some of the powdery white stuff. One of the most frustrating things is heading to your snowmobiling destination and having to trailer your snowmobiles behind you in slippery, wet conditions. A better option is to purchase a toy hauler to use to tow your snowmobiles.
Toy haulers provide the unique advantage of having a living area to relax in, along with a garage to store your snowmobiles. With a toy hauler you will never have to worry about your snowmobile being nicked by flying rocks or impacted by the freezing temperatures and wind. When purchasing a toy hauler to take on your next snowmobiling trip there are several factors you need to consider.
Perhaps the most important factor to think about is the size of the garage. Most snowmobilers recommend no smaller than a 12' garage, however, the larger the garage the better. If you get creative a 12 foot garage can fit up to 4 snowmobiles (just remember to think about how much weight your toy hauler can handle).
Another factor that you need to think about when considering purchasing a toy hauler is the type of toy hauler. Travel trailers can be more lightweight, offer less luxury features, and are typically affordably priced. Fifth wheels, on the other hand, are usually easier to tow and handle, have luxurious interiors, and are a great choice if you plant to use them for several weeks at a time.
Once you know the garage size that will work for your needs and the toy hauler type that will work best for you, you can begin to think about amenities that would fit your lifestyle. This might include hardwood cabinets in the kitchen, deep sinks, slide outs with high ceilings, or even crown molding. As you begin to look at the amenities offered make a list of must haves and amenities that are optional. This will help bring clarity to your search and discern between what is a need versus a want.
Toy haulers offer all the comforts of home along with the practicality of a garage. This means you can securely store your snowmobile and head out to your favorite snowmobiling destination without worrying about being prepared. View our selection of toy haulers online or stop in and walk through the units we have in stock. Our team can help you make the best decision when it comes to finding an RV that will work best for your family.