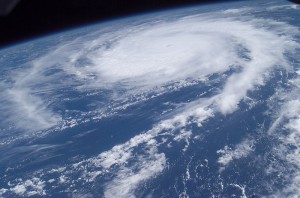 As the spring camping season quickly approaches the chance of encountering unpredictable weather increases exponentially. Spring is like when nature becomes bi-polar and can't decide whether it wants to revert to winter or push toward summer. Just because the weather during spring isn't always optimal, doesn't mean you can't enjoy camping in the cooler, more pleasant temperatures and enjoy witnessing the changes that spring brings. Likewise, just because the weather channel might promise sunshine on a weekend doesn't mean that it's guaranteed. Camping during the spring doesn't mean you have to delay your plans (unless the weather turns severe), but it does mean that you need to be a prepared to handle whatever comes your way.
The first part to being prepared is being informed. That means that you need to keep an eye on the weather every few hours. Pay attention to natural signs like heavy clouds, changes in the wind, and sudden increases or decreases in the temperature. It's also important to keep an app like Intellicast on your phone so you can track the weather and pay attention to any pending storms or high winds that might be heading your way using the radar feature.
If, for some reason, you're keeping an eye on the weather and you still end up getting caught in a rain or snow storm it's important to ensure you've got your phone nearby and that it is charged so you can call for help in case of an emergency. It's also integral that you keep your fridge and pantry well stocked so you never have to venture out to get food in the middle of severe weather. Similarly, if you think there's a storm on its way avoid heading too far from your campsite until you're completely sure it has passed. Be sure to keep plenty of blankets on board in case your power goes out and the temperatures drop. Keep extra towels in case water from a storm somehow manages to make its way into the RV (through an open window you forgot to close and broken seal)
It's also advisable to keep tie downs and bungee cords on hand to secure anything around your campsite that needs to be tied down. Consider securing items that could blow away and damage yours or another person's RV in the process. Items like logs and portable grills are just a few of what should be secured.
What should you do, though, if a storm just suddenly appears? We've all been in situations where it doesn't seem like a storm is likely and the radar doesn't show any sign, and a downpour just comes out of the blue. The most important thing is to make sure you close your slides, particularly if the storm is severe. Once your slides are in quickly survey the area looking for anything that might fly away.
Being prepared for storms and changes in the weather is the best way to ensure you get the most out of the spring camping season and begin enjoying your RV sooner rather than later.
Share with us any weather tips you have on Facebook or Google+. If you're looking for a new or used RV be sure to check out one of our 2 RV dealerships in Colorado.