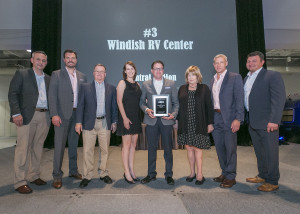 Windish RV is proud to be named the #3 Airstream dealer in the Central region. The awards were announced earlier in May when Airstream dealers from across the world gathered in Boston, MA for the manufacturer's annual International Dealer Meeting.
"Airstream's success is possible in part because of the efforts of our incredible dealer network," said Bob Wheeler, President and CEO of Airstream. "We are pleased to recognize these dealers and award their hard work and contributions."
Airstream manufacturers the iconic "silver bullet" Airstream travel trailer and is the longest-tenured recreational vehicle manufacturer in the world. The company's mission, as set forth by founder Wally Byam, is to create well-designed, high-quality products that allow people to follow their dreams and explore the world in home-like comfort.
Windish RV is the exclusive Airstream dealer in Colorado, carrying the full motorized and towable product lines at its Lakewood, CO location. To learn more about the Airstream product line click here or follow Airstream of Colorado on Facebook or Instagram.