The new models of our Airstream Caravel travel trailer for sale are hard to resist! With newly designed interiors, JL stereo with Bluetooth, and their signature neutral canvas to make every RV personal, you won't want to miss out. If you're interested in more details, continue reading our Airstream RV Caravel Travel Trailer Review.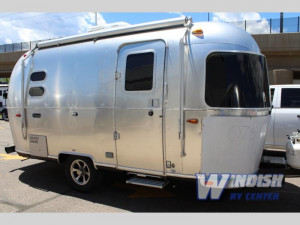 The Airstream Caravel travel trailer help you to create the perfect balance between the spontaneity of an adventure and the comfort of knowing you have a stylish place to stay warm and is full of features to make your trip unforgettable.
The stainless steel front stone guard protection ensures less damage with all of the traveling, and the stylized aluminum wheels protect your RV out on the road, keeping it durable for years to come.
Here are some additional exterior features you will love: 
Temperature Reducing One Piece White Aluminum Roof
Tempered Tinted Windows with Double Cam Latching System
Thermal Barrier Protection Between Interior & Exterior
Thule Aluminum Entry Step
Torsion Axle Suspension
Unique Front Door Key with Heavy Duty Deadbolt
ZipDee® Rear & Roadside Window Awning with Sunbrella® Fabric (OPT)
Plus, along the outside there is an exterior shower with hot and cold water to prevent tracking any mud inside the trailer. From solo trippers to families, these Airstream Caravel travel trailers have everything you will need to make the most of your trip!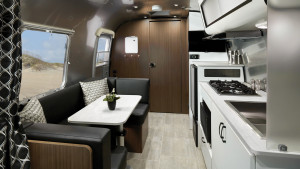 The interior has unique amenities that you'll find necessary as you begin to camp out in your Caravel. The over-the-head storage comes with sliding doors that make it easier to organize all of your camping necessities. The coat and key hooks add a touch of luxury that most RVers don't think about. The hooks give you a chance to organize your clothes and keys for better storage purposes.
With convenient features like the LED lighting with a dimmer, the retractable clothes line in the shower, and under-the-bed storage you'll experience your best camping trip. When mother nature rains on your parade, you can come inside and watch your favorite movie on one of the two LED HD TV's or jam out to your favorite tunes with the JL stereo while you pop a bag of popcorn in the microwave!
Settle down and relax in front of the panoramic front windows (with blackout shades), and watch as nature happens in front of you. Don't ever feel like you're disconnected from the forests, again! You won't need to eat out either with all of the amenities the kitchen provides like the three burner or two burner gas cooktop, depending on which model you choose, the stainless steel sink, and the JL stereo with Bluetooth for you to jam out while you cook.
You'll find that the Airstream Caravel has everything you've dreamed, and more. With such a modern twist in the design, you'll love the contrast from luxury indoors to nature right outside as you head out on the open road and start adventuring. If you have any questions about the Caravel, please contact us today. We wish you happy camping!