Are you ready to nestle yourself and your mate into a cozy environment surrounded by the beauty of nature? With our Airstream Nest travel trailer for sale you certainly can! With its unique design, Airstream Nest gives "modern" an exciting new twist. We are always so proud to show off our favorite brand, because we know that RVers like you are in love with it, too!

Although the Nest travel trailer is different from anything else Airstream has ever made before, it still has the same soul and clever design of its iconic aluminum counterpart. Because of its compact and lightweight design, the Nest is the perfect sidekick to last-minute getaways and unexpected trips.
The molded fiberglass entry door with the window allows plenty of natural light to come streaming through, which as adventurers in the great outdoors, you and your significant other will enjoy for years to come. In addition, the sliding screen door allows you to breathe in nature while keeping it outside.
Looking for luxurious and sleek? The handcrafted Italian Lite-Ply laminated cabinetry brings a sense of modern and warm to the atmosphere. The panoramic front windows and its accent walls with insulated soft-touch panels gives a nice touch to the aura, leaving you relaxed.
You will also find the well-equipped kitchen and on-board bathroom deliver extreme usefulness to this modern dream. As you can see, the Nest travel trailer gives you the impeccable craftsmanship you've come to love from Airstream RV wrapped up in an exciting new package!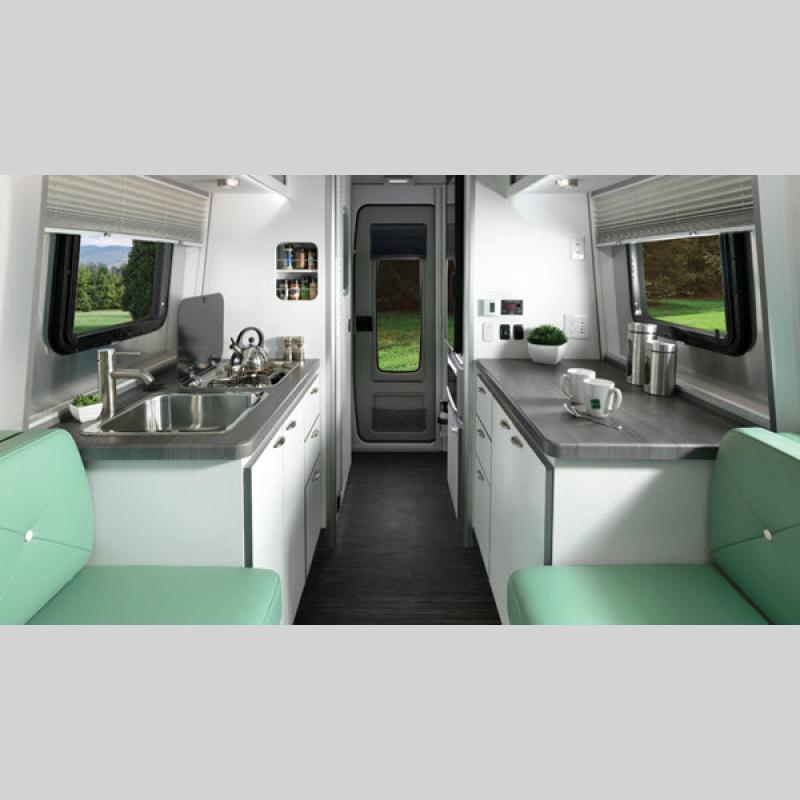 A 58″ x 80″ queen Tuft & Needle foam mattress bed is available for restful nights near the skylight. Looking at the stars has never been more enjoyable! When you wake in the morning you will find the rear corner wet bath a welcome space to get refreshed and ready for whatever adventures lie ahead.
You will enjoy a 3.2 cu. ft. refrigerator, a two-burner cook-top, and microwave oven that are all conveniently placed for you advantage. As you can see, with any Airstream Nest travel trailer you are getting an easy to manage modern designed unit with all the comforts of home.  Surprisingly, you will find a large amount storage throughout each model including overhead cabinetry and under bed storage for larger items, as well as two lockable storage compartments on the exterior.
Looking at the stars has never been more enjoyable!
Each Nest travel trailer has LED lighting and natural light, so you'll get the best of both worlds during the day and in the evenings. Seamless vinyl flooring means easy care maintenance for all trips you decide to take. Let a new Airstream Nest be your new cozy retreat for two!
Thank you for reading the Airstream Nest travel trailer review. If you're ready to take on the adventure of the newly-designed Airstream Nest, please contact us today. We'd love to answer any questions you have about our favorite manufactured RVs. If you love modern, you'll love this fun travel trailer!