View Airstream Flying Cloud Inventory Here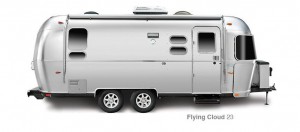 Airstream travel trailers are an icon of the ingenuity and flexibility of RVing. They're high quality, aerodynamic, and probably one of the most well known brands of RVs out there. The Flying Cloud takes travel to the next level by implementing exceptional storage capacity and comfort in an RV that is easy to tow and compact. If you're interested in learning more about these RVs read our Flying Cloud review to learn more.

Flying Cloud 20
This floorplan offers space for up to 4 people, making it ideal for couples traveling together and small families. At only 20′ long it's incredibly easy to tow. It offers a 23 gallon fresh water, 21 gallon grey water, and 18 gallon black water capacity. The rear kitchen includes a 3 burner range, pantry, double sink, and a 4 cubic foot refrigerator with an LED TV above it. The bathroom is situated in the rear corner of the RV and includes a shower, toilet and lavatory. Along the driver's side is a 38″x76″ dinette where you can enjoy delicious meals with your family. At the front of the RV is a 48″x78″ bed that promises comfort wherever you are. This bedroom also includes two hampers. Outside of it is a wardrobe and a closet for coat/shoe storage.
Flying Cloud 23D
At 23′ in length this floorplan sleeps 4 people. It's fresh water tank holds 39 gallons, while the grey water holds 21 gallons and black water holds 18. It includes a 48″x75″ bed at the rear of the RV and 42″x76″ dinette at the front of the RV. Along the driver's side is a 66″ sofa. The galley includes a microwave, 5 cubic foot refrigerator, and a large pantry. There are also two wardrobes for storage.
If you're interested in learning more about the Flying Cloud, contact us. We can answer any questions to make sure you've got the information needed to make the best decision for your needs.