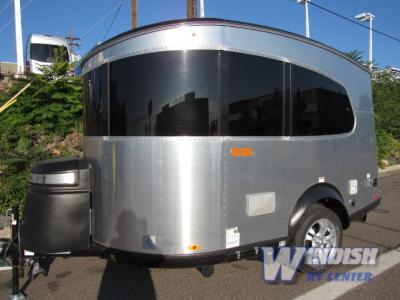 For a cooler than cool camping experience, the Airstream Basecamp Travel Trailer delivers like no other RV on the market today. These ultra lightweight campers are an ideal choice for outdoor adventurers that are looking for an easy to tow trailer less than 2600 pounds.
Fuel efficient and stylishly aerodynamic, the Basecamp RV for sale at Windish RV is your ticket to carefree weekend adventures or comfortable cross country road trips. Wherever your travel dreams lie, the Airstream Basecamp can take you there in modern elegance.
Here, we'll take a look at what really sets this unique camper apart from other lightweight travel trailers in it's class.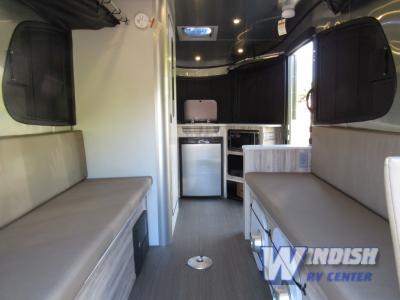 Modern Style
With elegant curves, a sophisticated interior design and a modern appeal, the Airstream Basecamp is definitely a head turner. The Panoramic windows provide a fantastic view of outdoors while you sip your morning coffee or relax with friends.
The neutral tones of the high quality interior furnishings blend seamlessly with your natural surroundings. From the kitchen up front to the bathroom in the center to the seating/sleeping area in back, you have everything you need for an ultra convenient adventure in the wild unknown.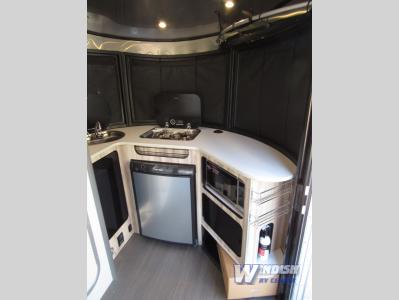 Airstream Quality
The Basecamp adheres to Airstream's strict manufacturing practices with features such as:
Semi-Monocoque Aluminum Superstructure
Flurocarbon Treated UV Protected Aluminum Exterior
Thermal Barrier Protection Between Interior and Exterior
Hand Crafted Welded Extruded Aluminum Window Frames
3M Filon Front Stone Guard Protection
Enclosed Aluminum Insulated Heated Underbelly
Torsion Axle Suspension
and more!
You know when you see the Airstream name, you can trust in many happy years of camping fun.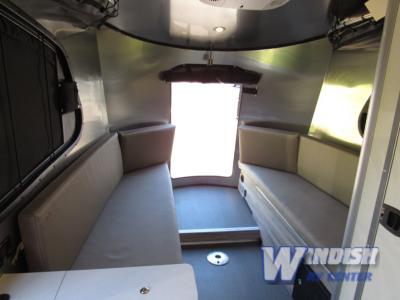 Off-Grid Living
If your travels take you off the beaten path, the Airstream Basecamp will make you off-grid camping experience a breeze. A Solar pre-wire kit comes standard. The optional 160w solar package w/upgraded AGM battery allows you additional off-grid camping freedom.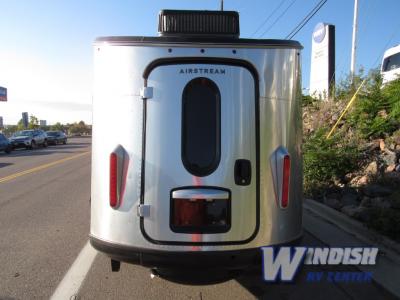 Off Road Ready
With a higher ground clearance and larger wheels than many other campers in it's class, the Basecamp is built to handle rougher terrain. The uniquely aggressive departure angle allows you to tackle more roads with confidence. Side skirts and wheel flares help prevent damage from gravel and debris.
Endlessly Versatile
With a number of fun additions such as a fully enclosed patio tent and a slide in visor patio awning, you can customize your Airstream Basecamp depending on your camping needs.
With both a rear and side door openings, extra cross ventilation is available whenever you need a cool breeze. There are many smart, versatile storage solutions located all throughout the interior for your favorite travel items.
For a unique camping experience that allows you to experience the outdoors with a sense of adventure and style, check out the Airstream Basecamp models available at Windish RV. It's time to get out and see where the road takes you!