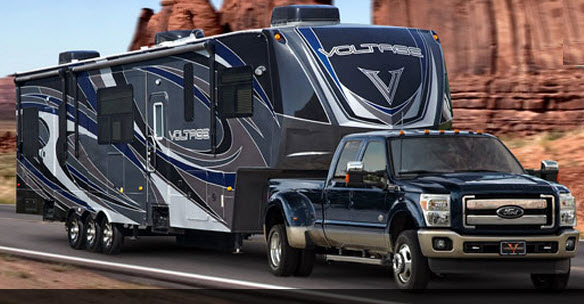 Making the decision to buy an RV is hard enough. Once you make the decision, however, you're faced with another choice: what type of RV should you buy? For those who enjoy taking their hobbies with them on the road you'll want to purchase a toy hauler. These RVs come as travel trailers and fifth wheels that feature garages that allow you to securely store toys like dirt bikes and ATVs. Before you set out to purchase an toy hauler you'll want to ask these questions to make sure you find the best RV for your needs.
1. Toy hauler fifth wheel or toy hauler travel trailer?
The first part to successful toy hauler shopping is to determine which type of toy hauler would work best for you. Toy hauler fifth wheels tow and maneuver much more easily than toy hauler travel trailers, however, they tend to cost a little more. Toy hauler travel trailers don't often feature a separate cargo area from your living area and will often combine the two in an effort to save space and weight. Think about what your needs are then talk to the dealer to see which might work best for you.
2. Tow Weight
If you're planning on matching your toy hauler to your current tow vehicle you need to make sure the toy haulers you look at are capable of being towed by your vehicle. Now, if you're planning on buying the tow vehicle after you select your RV you're in a better position because you can choose whatever RV you want and then match the tow vehicle. Just be sure to know what you'll need and what the approximate cost would be for a vehicle that meets your needs. After all, you wouldn't want to buy a high end toy hauler that requires a $60,000 truck to tow it, only to find out you can't afford it!
3. Is this an all seasons toy hauler?
This question is particularly important if you plan to enjoy your RV during the winter or enjoy participating in winter sports. Make sure your RV is prepared for all seasons so you don't suffer from frozen tanks, broken lines, and thousands of dollars of potential damage.
4. Maintenance History
If you're buying a used toy hauler ask to see a log of the maintenance that has been performed by the previous owner. Inspect seals, the roof, windows, and tires thoroughly. If you're looking at a brand new toy hauler ask the dealer what you can expect the maintenance to look like. It varies from toy hauler to toy hauler and will largely depend on the features your RV has.
5. What are your needs?
Because toy haulers are so versatile, they can meet a variety of needs. Think hard about what yours are. This will help you determine which toy hauler will work for you. Do you plan to use your toy hauler's cargo space as a toy room for kids? Do you have a lot of people to sleep? Your answers will dictate what you look at and what your budget is.
View our selections of toy haulers online and contact us with any questions you have. We are the #1 dealer in the country for toy hauler fifth wheel sales and are happy to help you find the best RV for your needs.