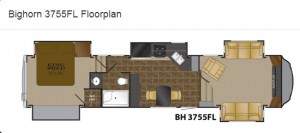 The beauty of RVing is that it truly fits any lifestyle. Whether you want to live on the road full time or simply plan on taking several smaller vacations throughout the year, you're sure to find an RV that works for you. Many RVers prefer fifth wheels with front living rooms. This is because they provide a very clearly defined space for entertaining and fun and are also situated away from the sleeping area so noise doesn't travel and disrupt anyone who might be sleeping. These floorplans are also popular amongst RVers who like to keep their kitchen and dining area separate from their living area. We offer several front living area fifth wheels from trusted brands that are known for providing the highest quality RV living experience. Here is a sampling of a few of these RVs.
Grand Design 379FL | When you step into the 379FL you meet luxury fifth wheel living at its finest. In the living area a large 50″ LED TV sits above a fireplace on the front wall, while two 80″ tri-fold sofas sit across from each other in their own slides and a 58″ theater sofa sits directly in front of the TV. You have the option to select a king sized bed in the rear bedroom (standard queen), which also comes with washer/dryer prep, an HDTV, and a pullout ottoman. This floorplan is a great option for those who enjoy having a large kitchen as it comes with a huge island that makes food prep easy and enjoyable.
Heartland Bighorn 3755FL | The Heartland Bighorn 3755FL features a huge front living area that includes a 55″ LCD TV, two slides situated across from each other – with each one including a large sofa with seating for 3, and a plush chair located kitty corner to the TV. To access this front living space you climb 2 stairs. Perfect for couples this 40′ fifth wheel features a king sized bed in the back bedroom that is located in a slide and also comes with washer/dryer prep. With the 3755FL fifth wheel you get 73 gallon fresh water capacity, 90 gallon gray water capacity, and 45 gallon black water capacity.
Redwood 36FL | Redwood is known for creating some of the highest quality fifth wheels for year round RVing. The Redwood 36FL features an 80″ sofa with an ottoman located against the front wall. It faces an entertainment center located within a slide that includes a 40″ TV and optional desk and fireplace. Across from the entertainment center is an additional slide that features 2 chairs and an ottoman. This floorplan also includes a queen sized bed in the back bedroom, a bathroom with a washer and dryer and entrance/exit to the outside and a spacious kitchen with a dinette for two.
If you're interested in learning more about our fifth wheels with front living areas contact us or view our selection online. We also welcome you to stop by and walk through our available units. Our team can answer any questions you have and make sure you've got the information needed to buy the best RV for your life stage.