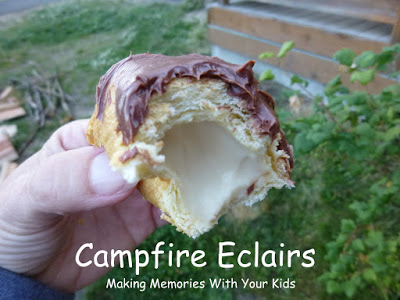 The best part of the summer is being able to cook pretty much anything over an open flame. Burgers, veggies, breakfast, lunch and dinner and, dessert, can all be made over your campfire. We put together a list of some of the most delicious, desserts that can be made right over an open fire.
Waffle Cone S'mores
Who doesn't love waffle cones? Pick up a pack of cones, along with marshmallows, Rolos, chocolate and any other candies you might like. Wrap in foil and hold over the fire until the inside is thoroughly melted. Unwrap and enjoy!
Cookie S'mores
This is super easy. Use your favorite cookies to substitute graham crackers in traditional s'mores. Some of the favorites include fudge striped cookies, thin mints and coconut chocolate cookies. The options never end!
Stuffed Bananas
Grab some fresh bananas and your favorite toppings. Slice your bananas down the middle and fill with your favorite toppings. Wrap in foil and toast over the foil so the toppings melt. The longer you keep the bananas over the heat the more they'll caramelize.
Cast iron skillets are seriously one of the best kitchen accessories you'll ever buy. They can be used stove top, in the oven and over an open fire. Mix up your favorite brownie recipe, fill your skillet and cook for 20-30 minutes over an open fire. Just be sure to cover with foil.
Holy cow you can make this delicious pastry over your campfire and you won't regret one bit! Simple ingredients combine to create a delectable treat that takes minutes to make.