It's not always easy looking for the perfect new RV for you and your family. There are a lot of options on the market, and we know how difficult it is to decide which kind of recreational vehicle will work best with what you have. If you are on the fence about whether or not to get a new fifth wheel, we have made a super short list of some of the best benefits to owning a fifth wheel to make it easier on you. Take your time and consider these great advantages!
1. The Space
The designers were conscious of creating roomier floorplans when building such a large recreational vehicle. They wanted to ensure that there was optimal space for all family members or friends because the fifth wheel is great for long road trips or even full-time living.
Whether you're going for the weekend or you're on the road all the time, you will enjoy the comfortability of having an open floorplan. Take a look at our Grand Design Reflection for sale. As you can see by the floorplan image below, it allows for a spacious living area and a plethora of storage options!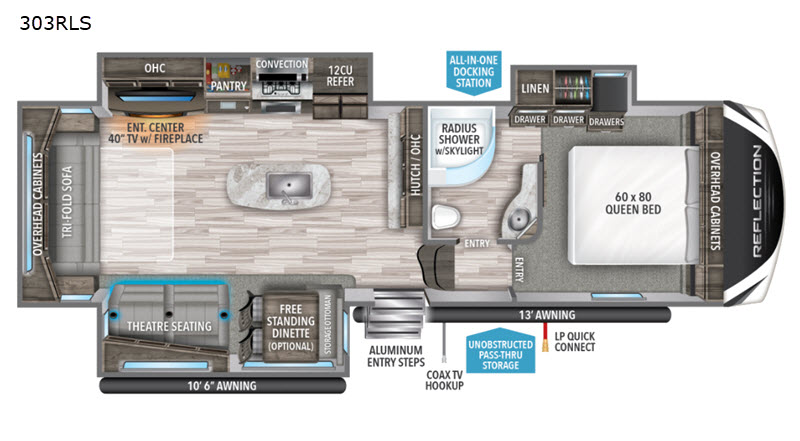 2. Greater Maneuverability on the Road
RVing can be tough out on the road, with much less flexibility than you normally have with just your vehicle. One of the greatest advantages of a fifth wheel is the easy maneuverability on the road. The design of the hitch has allowed more motility, and you'll find it easier to back up into smaller spaces such as your campground site.
The Keystone RV Rockwood Ultra Lite for sale is innovative toward this flexibility design. It not only maintains that easy-ness on the road, it also adds a lighter construction that builds an even more manageable recreational vehicle.
3.  You Can Leave It and Drive
Are you an adventurer? A fifth wheel is perfect for those of you who love to get a feel for their surroundings. Whether you're in the forest or at a campground, it's always a plus to have a smaller vehicle with you that can take without the recreational vehicle attached. A huge plus of the fifth wheel is that you can unhitch it and leave it.
Seasonal RVers and full-time RVers alike will love this versatile advantage. Unlike a motorhome, you've got a lot of choices in readily traveling outside of your campground or forest site to a town with dinner options or fun activities.
Spacious, Flexible, and Readily De-attached!
Our new fifth wheels for sale embody all three of these awesome benefits. If you find you need something a little smaller or like the idea of driving your RV on the road without towing, look at the variety of options in our new RVs for sale. If you have any questions concerning RVs or you want to take a look at our fifth wheels, contact us today. We'd love to hear from you!