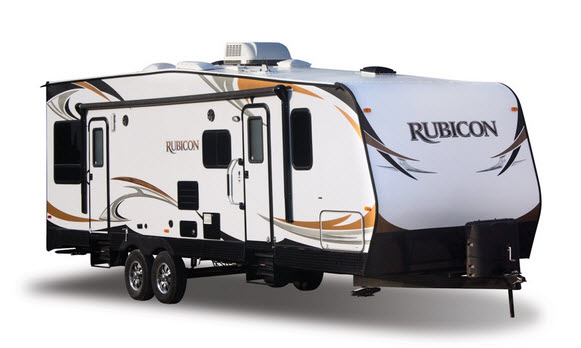 Who says that just because you have a toy hauler, you have to use it to haul toys. After all, not everyone enjoys hobbies like ATVing or dirt biking. Toy haulers, however, offer a unique feature that other RVs do not: a cargo area. Some are sections off like garages, while others include a cargo area that is merged with the living area. Regardless of how your toy hauler is set up, you can take advantage of what it offers.
Mobile Workshop | Say you enjoy woodworking and want to bring along your tools and get to work wherever you park. A toy hauler makes the perfect mobile workshop and allows you to not only craft on the go, but also lets you share your craft with others by performing your hobby at your campground. It's also the perfect place to create a mobile shop to make money to support your camping habit and make some extra money while on the road. And, because it provides a ton of space you can not only perform your crafts in the garage, but also use it to store inventory to sell at flea markets and craft fairs wherever you're visiting.
Second Bedroom or Playroom | Now this might seem silly, since we're talking about a garage, but many toy hauler garages includes extra beds, lofts, and even half bathrooms and are well insulated. If you've got children and they have friends coming along, but you don't want to be disturbed in the middle of the night this is the perfect place to set the kids up. They'll have a private space and you'll get to rest through the night while they stay up telling ghost stories. Do you have young children? The garage makes a great playroom for kids and allows you to cook a meal without worrying about having to watch the kids outside. Stock it full of toys and books and they'll be set!
Party Space | Many Rvers use their travel trailers and fifth wheels for tailgating. At times they can get cramped. Thankfully with a toy hauler you get extra space to be able to accommodate more people. More people means a bigger, more eventful tailgating event! If you've got kids you can even use your garage to host a birthday party at the campground.
Are you looking for a toy hauler? Check out our selection of toy haulers available to you. As the #1 toy hauler fifth wheel dealer in the country we have served customers from the U.S. and Canada and are thrilled to serve you. Get in touch with us to see how we can meet your needs.