At 31' long and with enough space to sleep five comfortably, the 2015 Dutchmen RV Kodiak 264RLSL Express is the perfect choice for you next journey — spacious, durable and ample space make this travel trailer a shining star.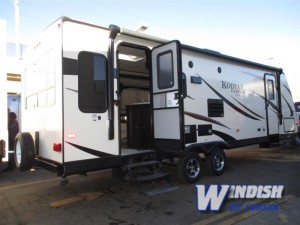 A welcoming space from front to back, the Kodiak 264RLSL Express is decked out with stainless appliances, solid surface countertops, and custom cabinetry. With it's flawlessly designed galley space, the Kodiak 264RLSL Express is stunning to look at even more comfortable to relax in. Decked out in the timeless Sable decor, this travel trailer will please even the most discerning of travels.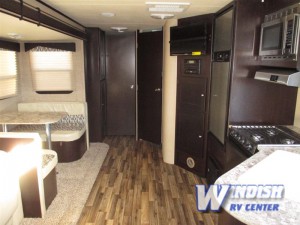 Keeping your comfort and relaxation at the forefront of its design process, Dutchmen RV has designed the Kodiak 264RLSL Express with plush, bonded leather seating, a private bathroom space, and a queen-sized mattress in the bedroom. With the features to provide you the optimal in travel comfort, you'll be getting a good night's rest everyday, so you can take on the next day's adventure. You may just find yourself extending your travel plans, and we've got your covered! Check out these tips on preparing for a long RV trip.
A 52 gallon fresh water capacity, 39 gallon grey and 28 gallon black water tank ensures you won't have to stop too much while traveling and the easily accessible hookups make the work less tedious, so you can get back to what you love faster.
Always the leader in ultralight designs, Dutchman RV has constructed the Kodiak 264RLSL Express with top-of-the-line safety features packed into an aerodynamic design. And with it's tasteful paint package, the Dutchmen RV is as easy on the eyes as it is on your back.
Need more reasons for why the 2015 Dutchmen RV Kodiak 264RLSL Express is the perfect choice for your next RV adventure? Visit us today and see for yourself this fantastic travel trailer!