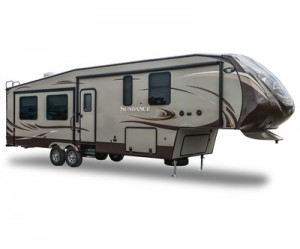 The Heartland Sundance XLT is a half-ton towable, mid-profile fifth wheel that's touted as one of the strongest half-ton towable fifth wheels available on the market today. Fully laminated, aluminum construction extends from the body to the roof, promising comfort and durability for years to come. Sundance XLT can sleep up to 9 people and reach up to 39′ in length and feature's Heartland's patented 88 degree turning radius that allows you to turn up to 88 degrees in a short bed truck. If this fifth wheel's quality is right up your alley, read our Sundance XLT review to learn more.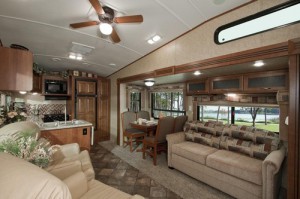 Living Area
A great RV trip is only as good as your RV's living space. After all, if you aren't out and about on the trails you're in your RV watching TV, reading a book, or listening to your favorite music. Sundance's living space makes all the difference when it comes to living comfortably. It boasts a standard 78″ interior height, an 8 foot wide body design, and many features that make life easier. This includes a hide-a-bed sofa, cable TV prep, a monitor panel, and carbon monoxide and smoke detectors for your safety.
Low, Low Prices on Sundance XLT Fifth Wheels
Kitchen
Even if you don't enjoy cooking, you'll love how Sundance's kitchen makes it a little more appealing. Residential quality Beauflor flooring lends to the luxurious look of the interior, yet is practical enough to last for years. A double door refrigerator makes accessing and finding food easy and is large enough that you won't have to worry about making multiple trips to the store while you're on vacation. A standard oven and microwave make cooking and reheating food convenient, while solid surface residential countertops will stand the test of time, yet maintain a high end look.
Bathroom
Sundance XLT's bathroom comes with a porcelain foot flush toilet, something you'd expect to pay extra for in other RVs. A skylight in the shower brings the great outdoors inside and makes for a relaxing time from the moment you enter that bathroom to the moment you exit.
Bedroom
Getting a great night's rest is particularly important while on vacation. After all, the point of vacationing is to decompress and enjoy your time, not be stuck wishing you would have just stayed home. XLT's bedroom includes a standard 60″x80″ queen sized bed, bedroom nightstands, and is cable TV ready. That means that whether you want to read a book or watch TV, you can do so in the comfort and privacy of your bedroom.
Contact us to learn more about the Sundance XLT or view our selection of fifth wheels for sale in Colorado.